The Lomo LC-A isn't one of the cheap plastic cameras, but it can be found for low prices. It's easy to handle, doesn't let you know the settings it chose, and the lens is soft wide open. It makes part of the Lomography family and its style of photographing.

The Lomo LC-A is a very small 35mm film camera with automatic exposure. It was released in 1984. In 1994 production ended. It was resumed in 1995 for the Lomography company and produced in Russia until 2005. In 2006 production was resumed in China as LC-A+. The original of this camera was the Cosina CX-2, from which Lomo copied its LC-A widely. The CX-2 has a better lens and a self-timer. It is very easy to handle: You just slide dustcover open and it's ready. Its main features are:

32mm F2.8 Minitar-1 lens, 3 elements, zone focus, indicator in viewer window for early models, min. focus 0,80m
Automatic electronic shutter, ~120sec(!!).-1/500, Aperture F 2.8-16, Flash sync 1/60s, manual aperture. Battery o.k. and exposure warning LED in viewfinder
Size 107x68x43,5, Weight 250 gr.
25-400 ISO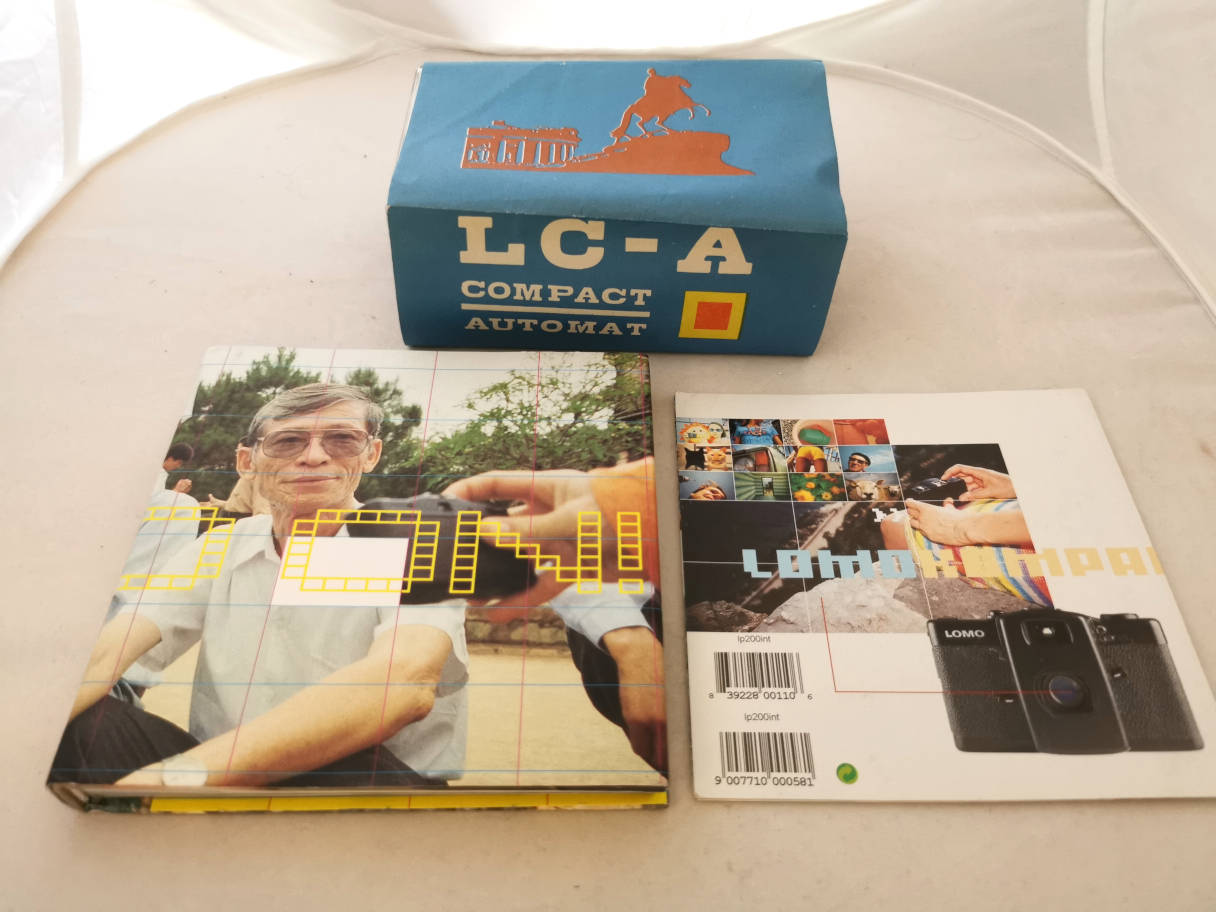 A late Russian model, marketed by Lomography in its original Russian Box, a book and instructions added by Lomography.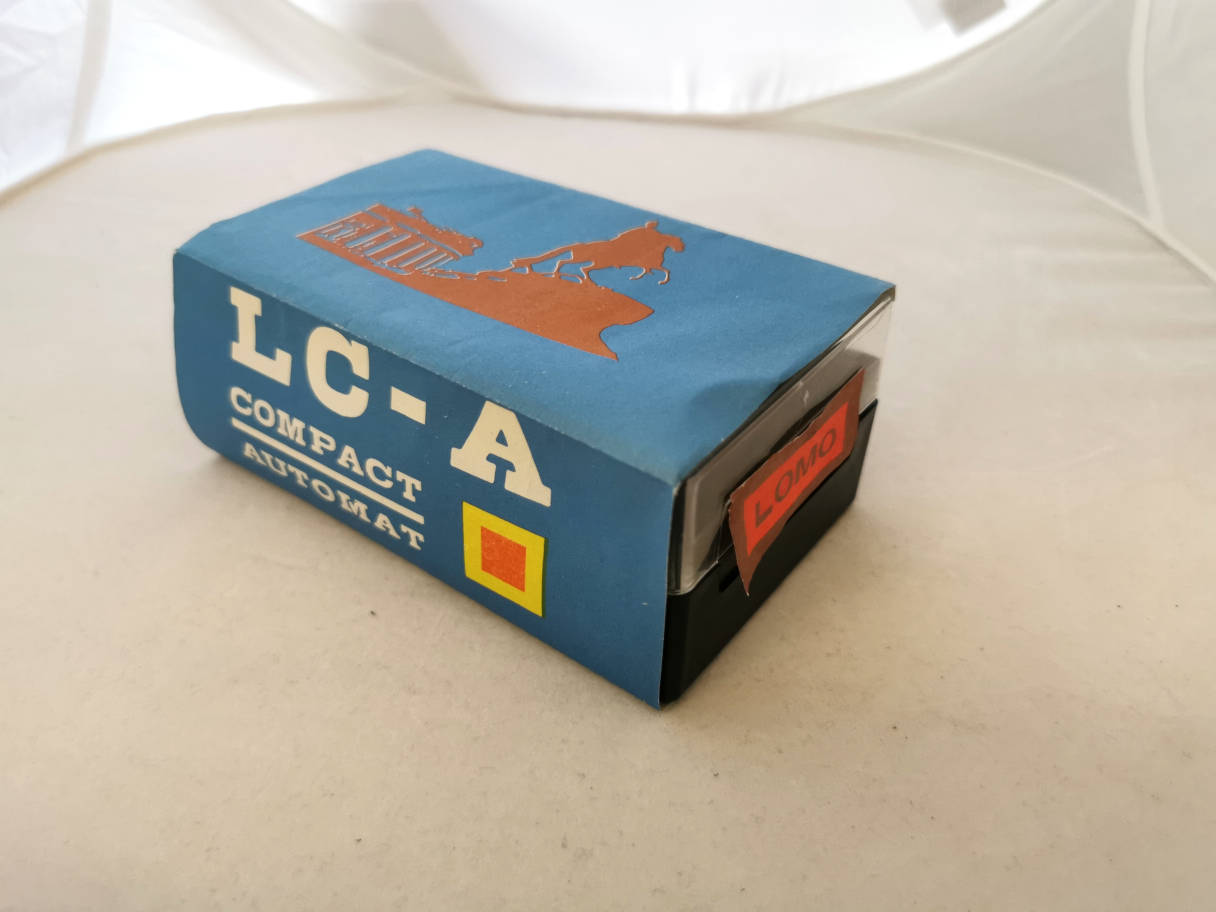 The box.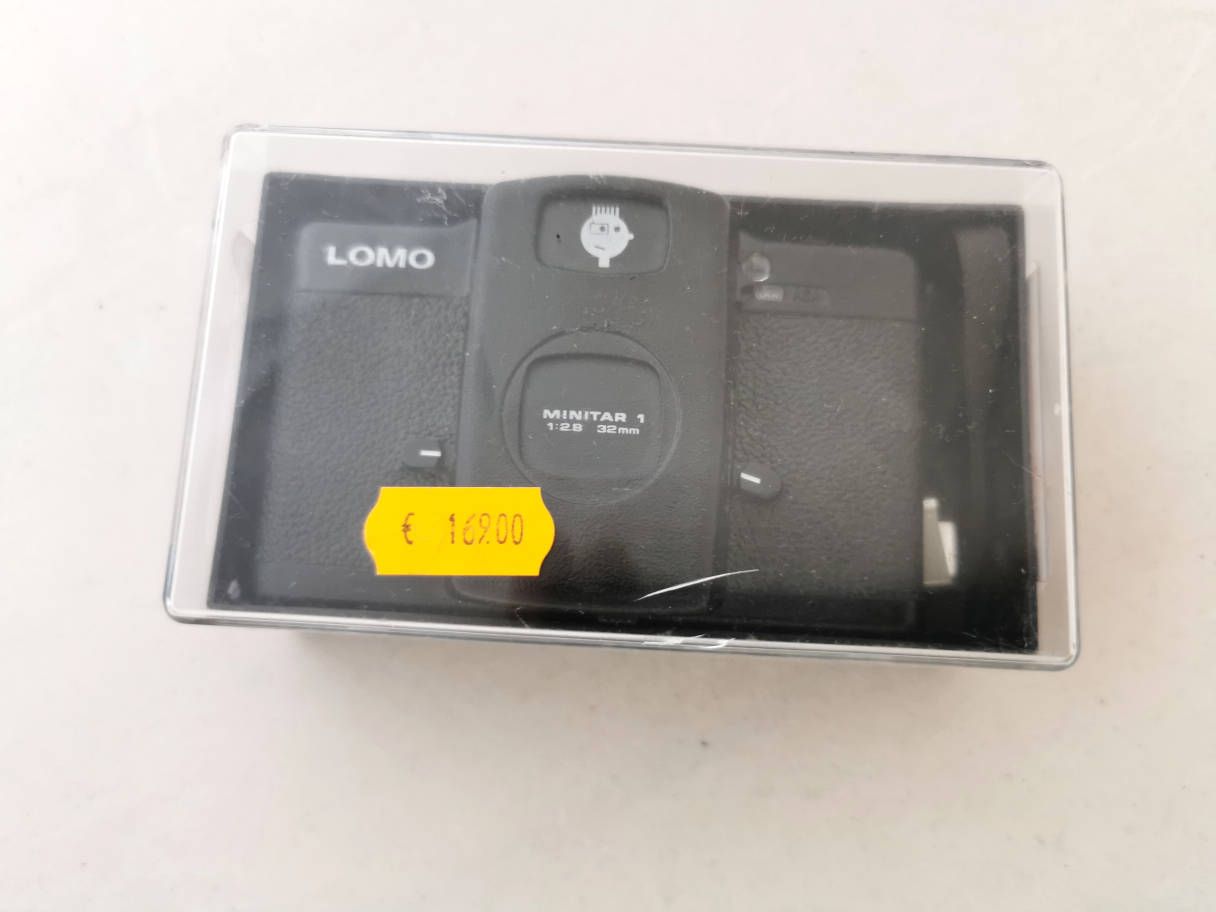 The camera was quite expensive.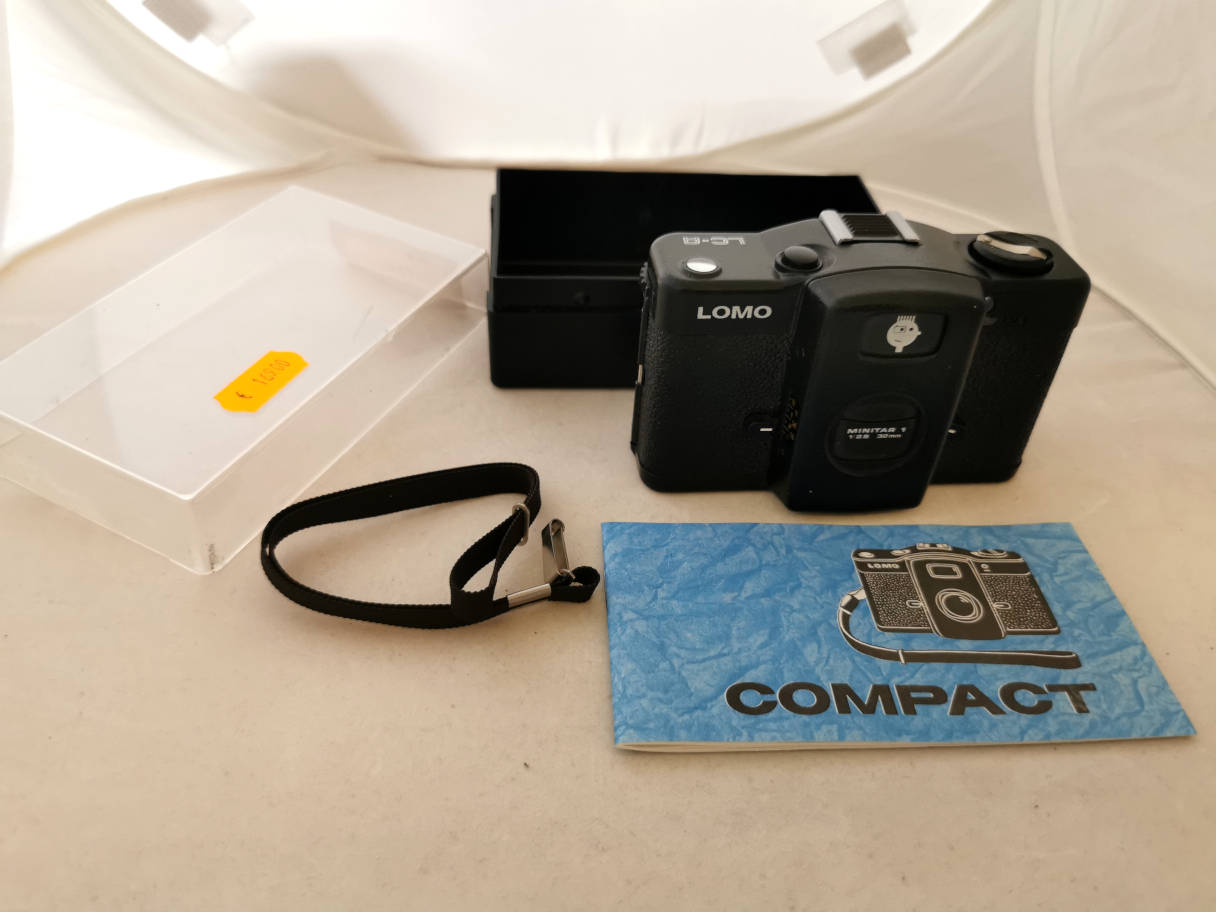 What's in the box: Camera, strap and instructions (English).



Camera closed.

Well protected behind the "dust cover".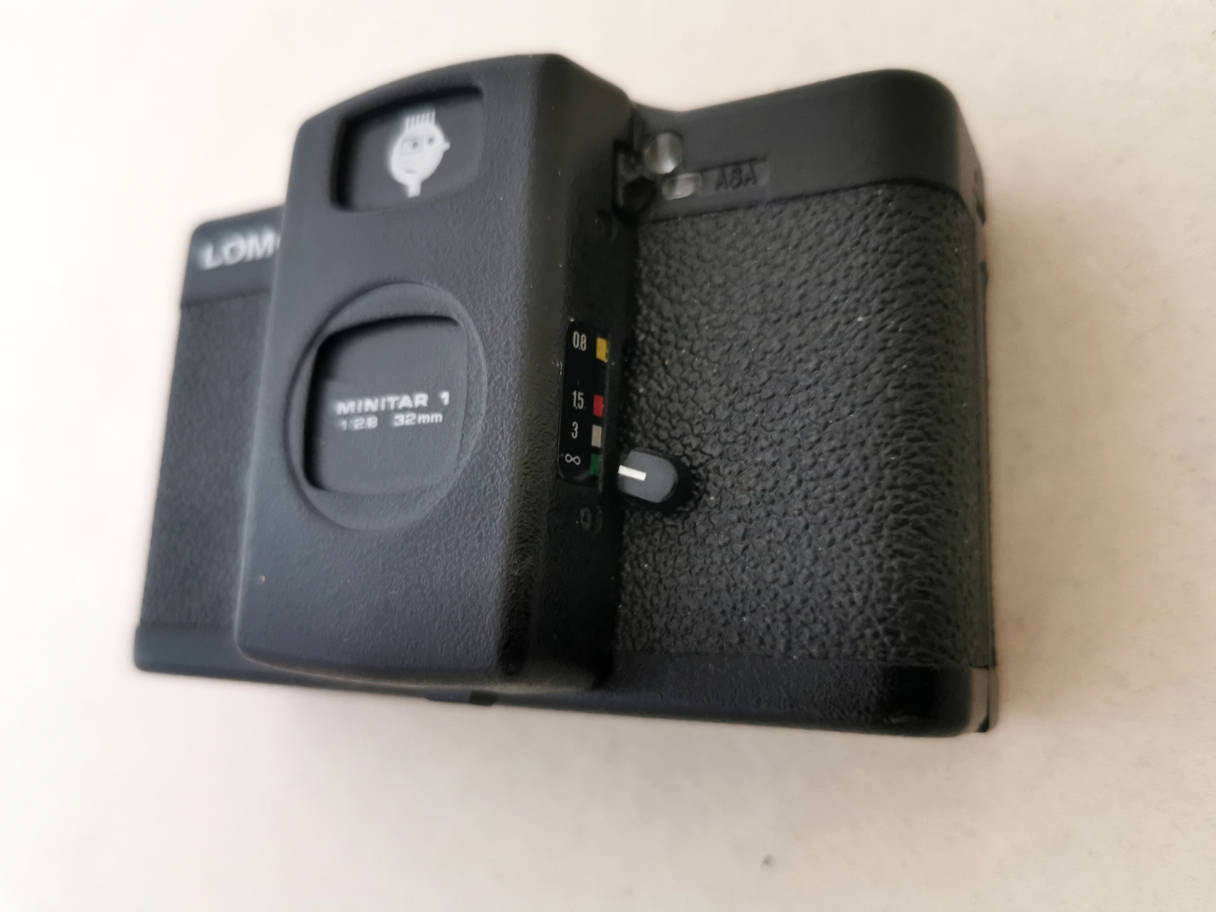 Distance setting. Near the top: photo cell, window showing ISO setting and tiny wheel to change setting.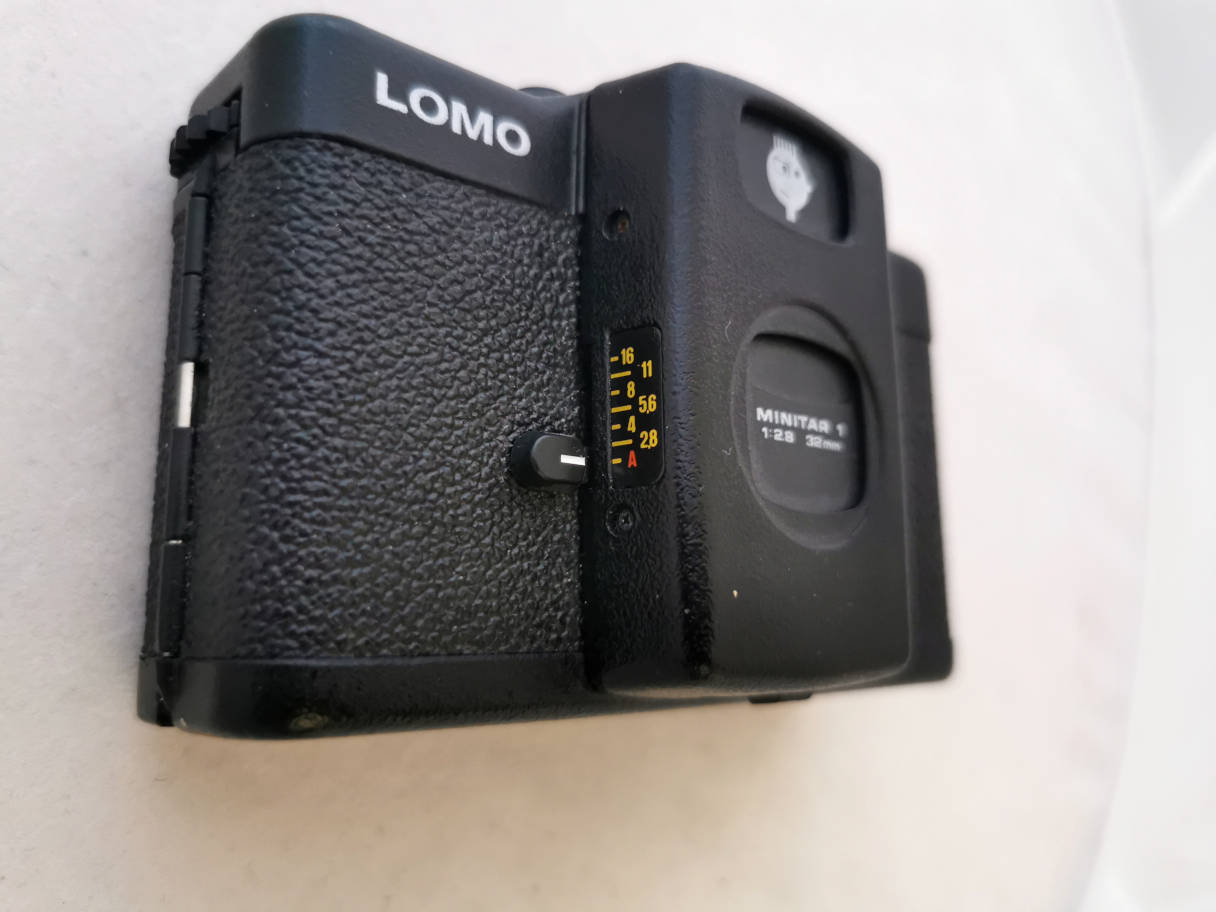 Sliding flash aperture control lever for flash pictures. Set to "A" = automatic, non-flash.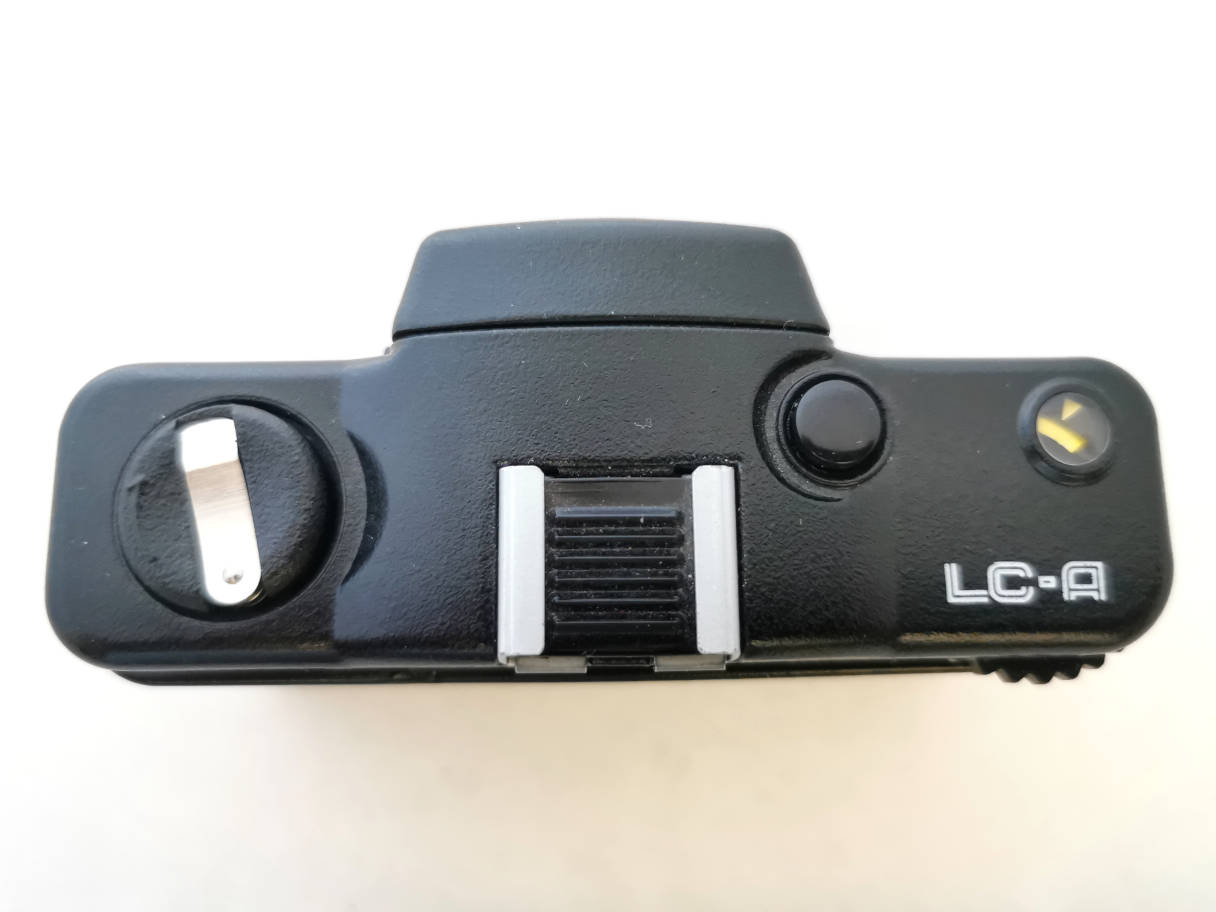 Seen from above. Exposure counter, shutter button, hot shoe wih cover, rewind handle.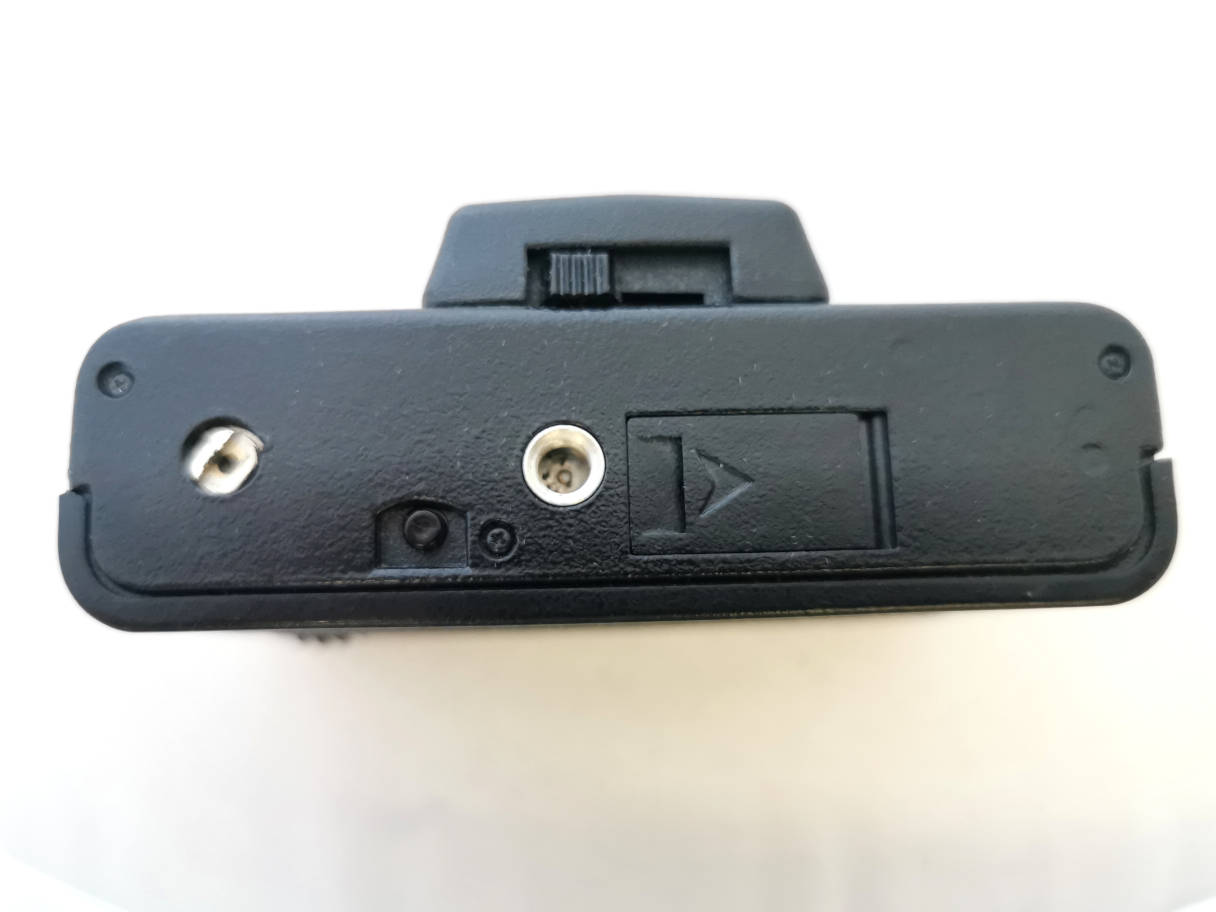 Seen from below. Motor wind coupling, rewind unlock button, tripod socket, battery compartment. It takes 3 LR/SR44 batteries, easily available. Under the lens: cover sliding lever.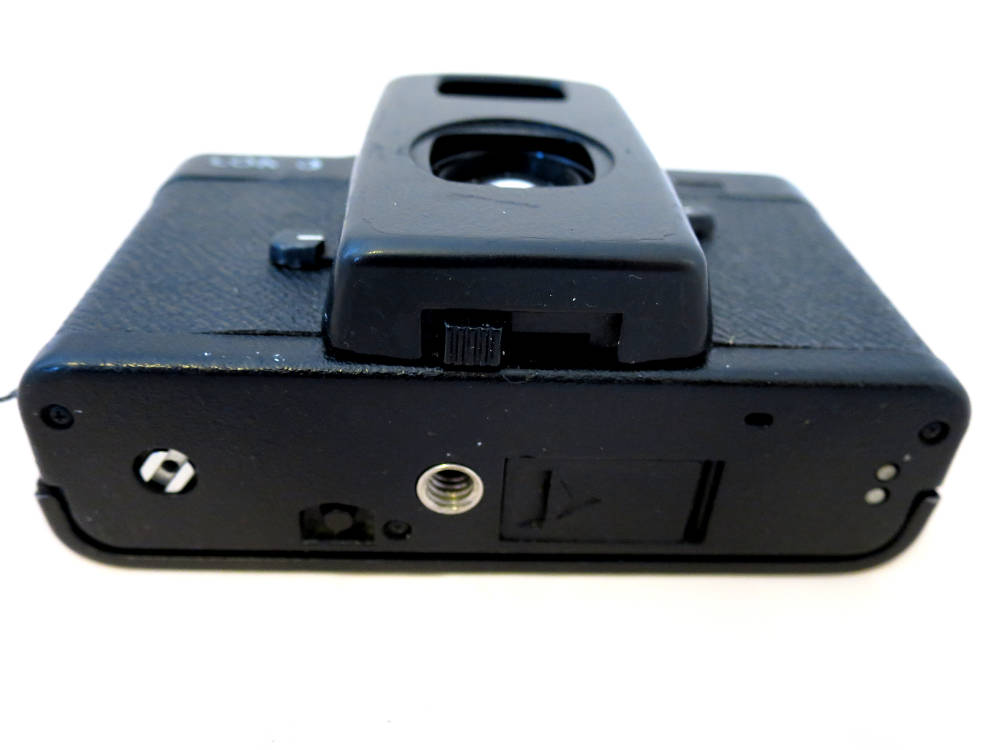 This is an earlier model with motor wind contacts. The motor wind was never released. The wind from the Cosina is not compatible.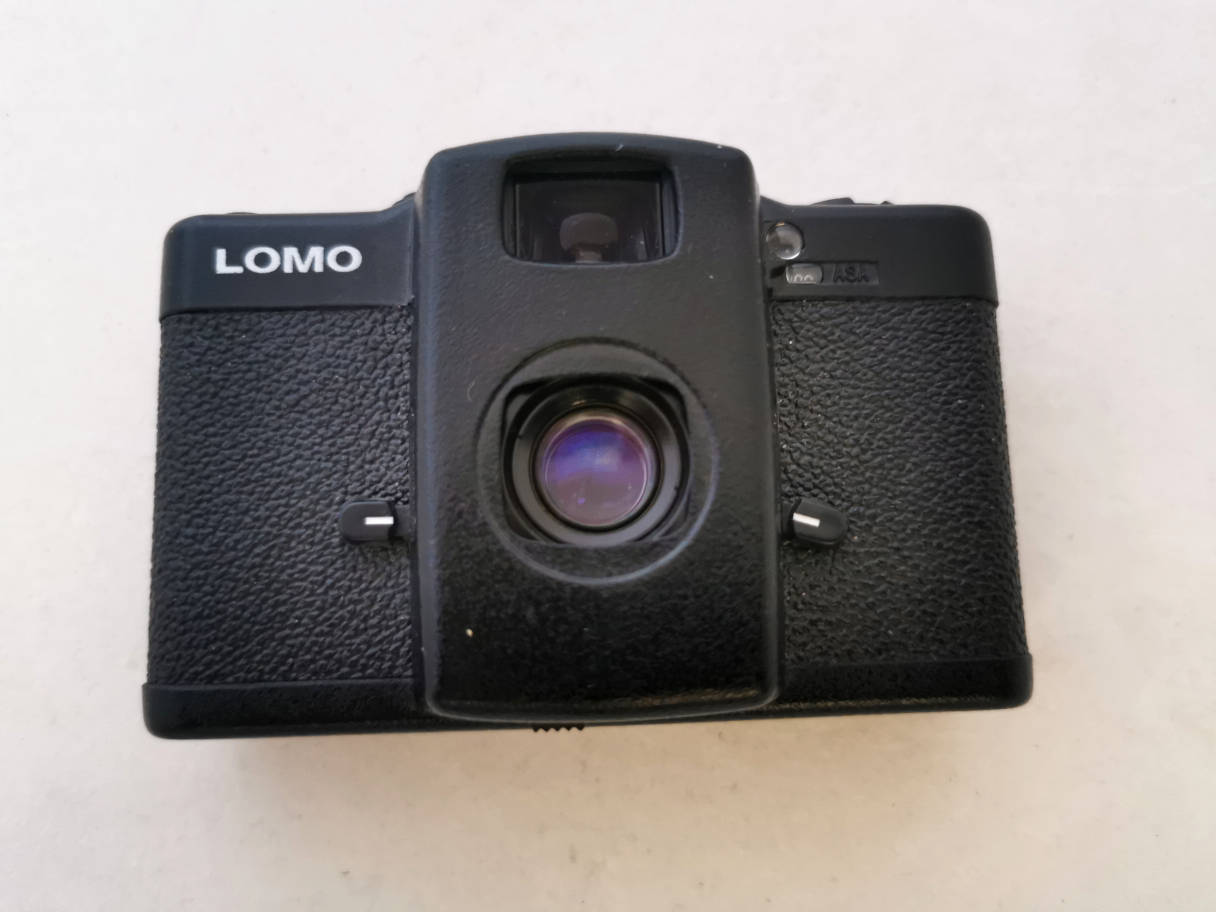 Cover open.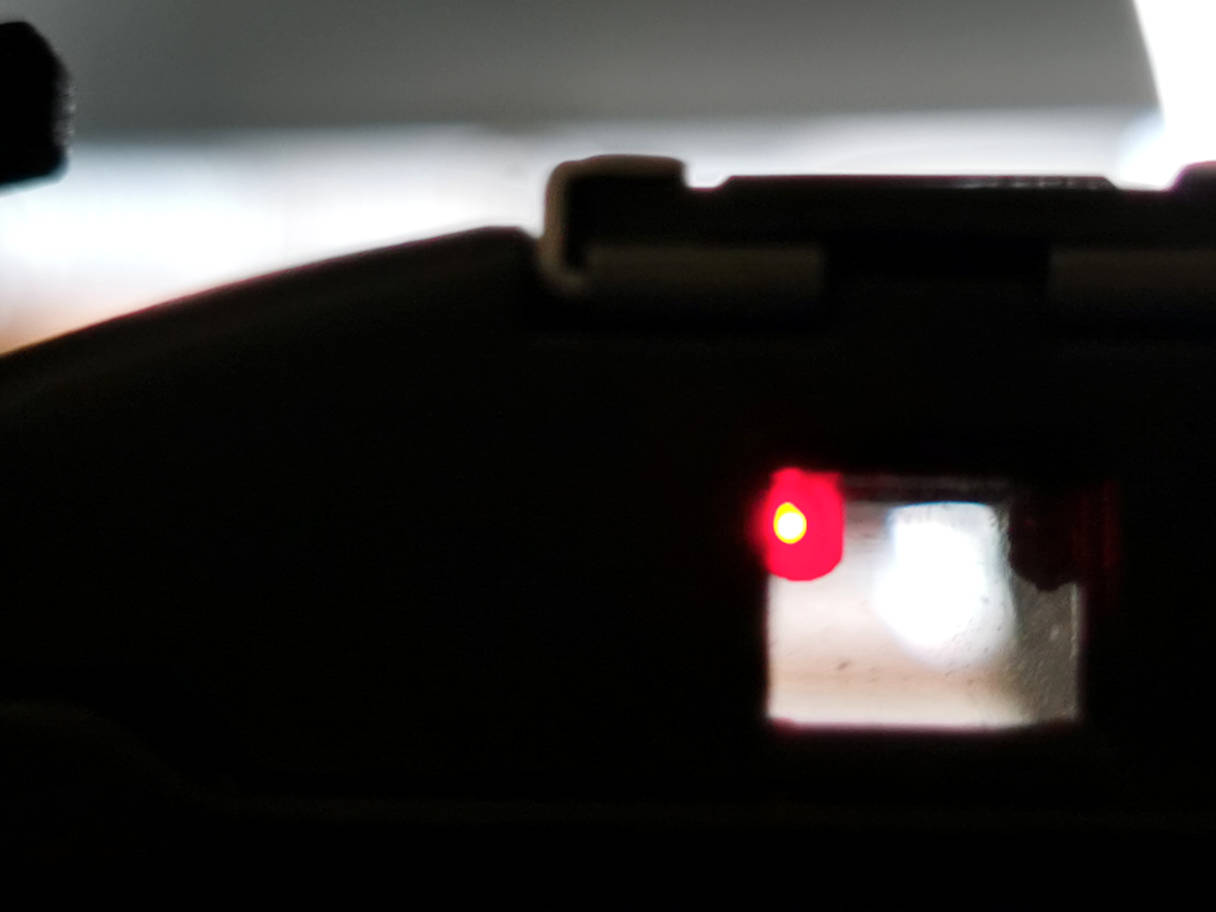 When the shutter button is half pressed, the left LED should light to confirm that the batteries are working.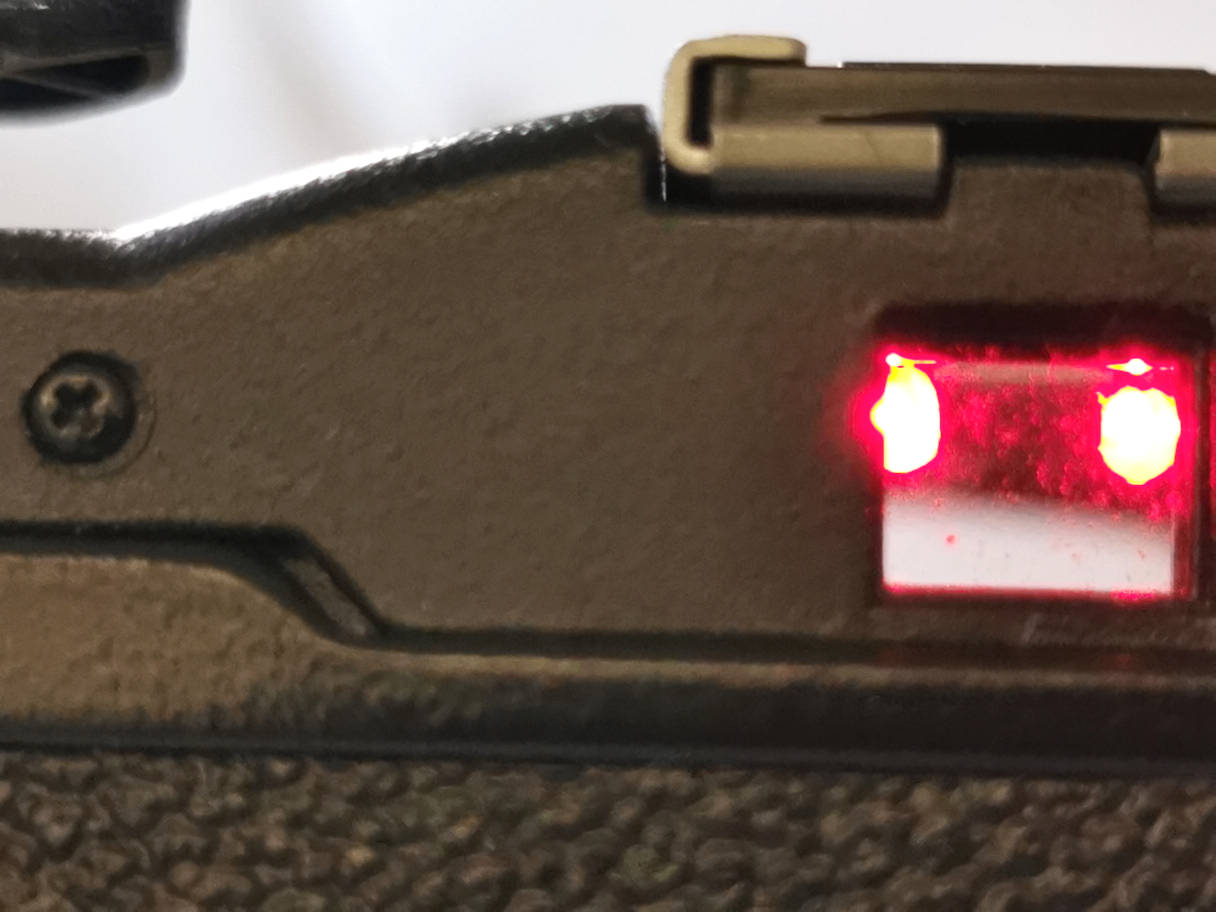 If both LED light up, thereis low light. Keep the camera steady or use a flash.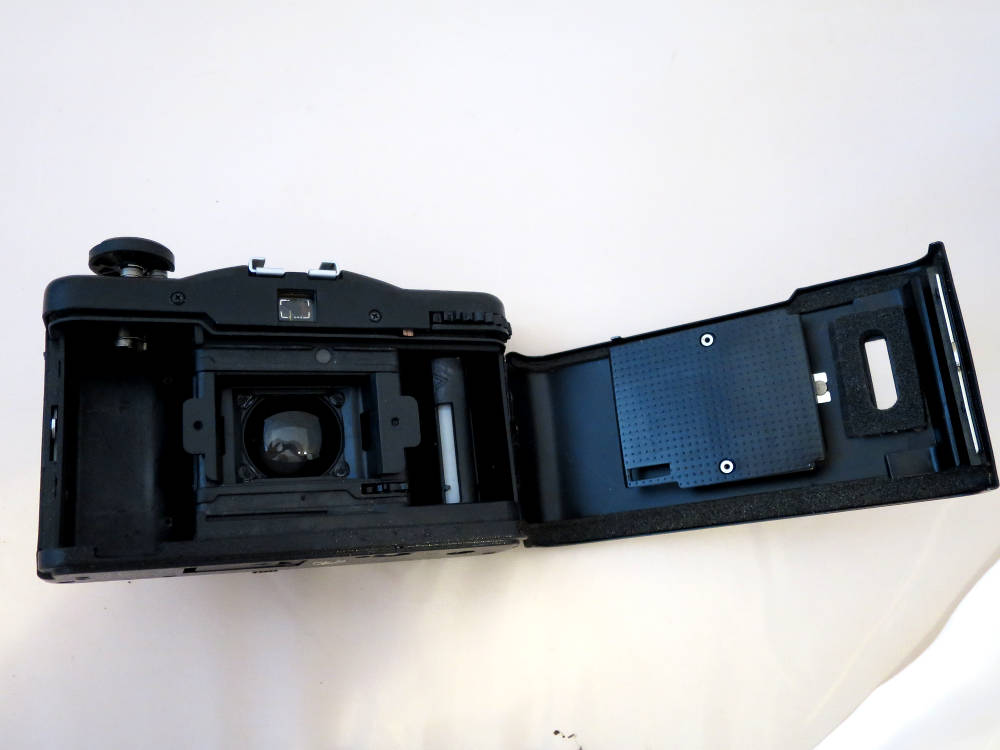 Camera open. The back cover is a modern + type one with a window for the film type.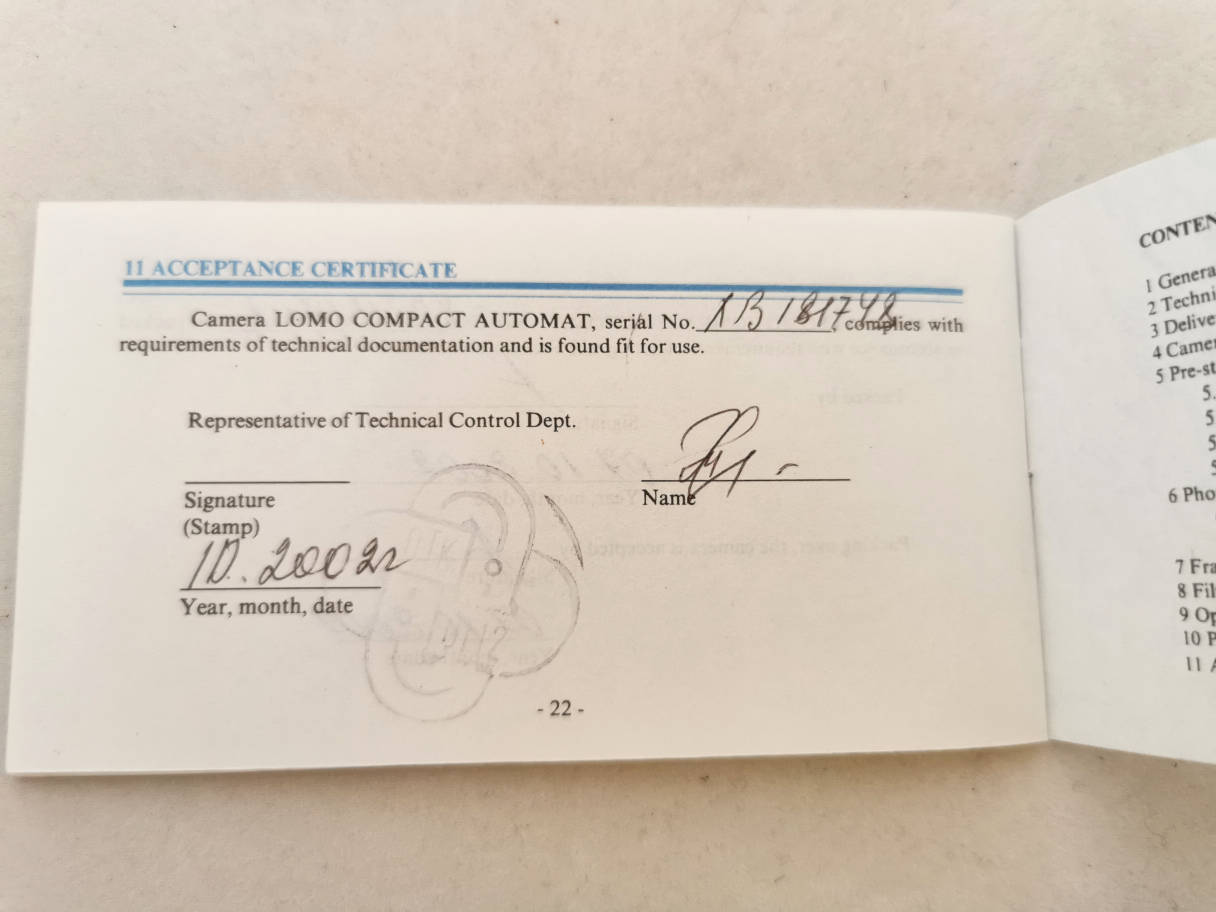 Camera papers.

The Lomo LC-A is a nice and easy to handle camera. It's very compact, its long exposure capability distances most of the others. It is widely appreciated thanks to clever Lomography marketing. The simpler lens is softer than the Cosina one. Lomo nearly copied all of the camera, except the sleek twist cover which they replaced by a simpler solution of a sliding cover. So the lever under the lens actions the cover and they added another lever for focussing to the right side of the lens. They left out the self timer. The rest is a very close copy. However the Cosina original is better and often cheaper. I cannot confirm that the Russian Lomo is unreliable. Mine work fine, maybe I was lucky.

The LC-A+ is more expensive and has some different features: ISO 100-1600, cable release socket, double exposure switch, accessory "grooves" on each side of the lens, no aperture choice for flash, no distance indicator in viewfinder. The build quality seems to be inferior to the Russian model, this was confirmed to me by a Polish repair firm. Especially the shutter button seems to be a problem. I have 3 LC-A+ cameras with issues, one of them new, but as it was a present, I could not get my hands on the warranty papers. Thanks to the Polish guys both versions could be repaired. Meanwhile they have disappeared from Ebay and I have not heard about another good repair firm.

Some gereral words about Lomography and their service: There is a 2-year warranty, at least in Europe. My personal experience with their service is very good. As most of their cameras are made of (cheap) plastic, there is no repair, they just exchange your defective camera. You have to send it in to their Vienna office at your expenses, which is not cheap if you are not based in Austria, but they try to compensate by adding film or so to the return. You absolutely need a proof of purchase, there was heavy abuse by fraudulent customers they told me. So if you buy second hand or your camera is gift, be sure to put your hands on the proof of purchase. After the 2-years warranty period it's over. They will try to help for the expensive not-so-plastic cameras like the LC series, but for the rest there is no repair. Keep this in mind for the prices you pay for older gear.

You can attach an Instant back to the camera shown here.