The Holga 120 camera is a simple plastic camera, often called toy camera, which appeared late on the market in 1982, when the Diana camera and its clones were already disappearing. Nevertheless it had great success on the Chinese market which converted late to 135 film. It seems as if the original inventor sold the factory to Tokina, I have a 2010 Tokina catalogue which contains all Holga models. There is a lot of misinformation around about the Holgas and the main seller, Freestylephoto, is trying to create mystery around it. In 2015 they announced that Tokina had shut down the factory and immediately distroyed all machines and molds. I doubted this information, perhaps they wanted to boost their sales, as the Holgas were still available from them. In 2017 Freestylephoto announced that the machines and molds were "miraculously" refound and the production would be resumed.

The lens is simple 60mm plastic meniscus lens (wider than the 75mm Diana lens) with some vignetting. Light leaks are frequent, you may have to put black tape over the seams. The original model, the 120S, has only one shutter speed of ~1/100s and 2 F-stops, sunny and cloudy, supposed to be F8 and F11. It is said that due to production errors pre-2009 models have only one F-stop of about F13 on both settings. 2009 and later models have 2 stops of ~ F13 and F20. The Holga can shoot 2 formats, 6x6 and 6x4,5 and has the according red windows and frame masks. The 120S was replaced by the 120N model, adding bulb speed, a tripod socket and some minor improvements. There are plenty of variants, G stands for glass lens and F stands for built-in flash.

With the hype of toy cameras 135 and 110 film versions appeared. There were pinhole versions, panoramics and even a TLR-version. Plenty of accessories were available and a Holga community of DIY enthusiasts. My camera, a 120 GCFN, has a glass lens and a built-in flash with colour filters, it was on sale as a white version for very little money. I wanted a Holga because of the possbility of an Instax Mini back as I am into instant photography. Its main features are:

60mm simple plastic menikus lens, ~F13 and F20, zone focus 1- ∞
Shutter ~1/100, B
Size 140x104x74, Weight 274 gr.
2 frame masks, 56x56mm and 56x43mm


Camera front.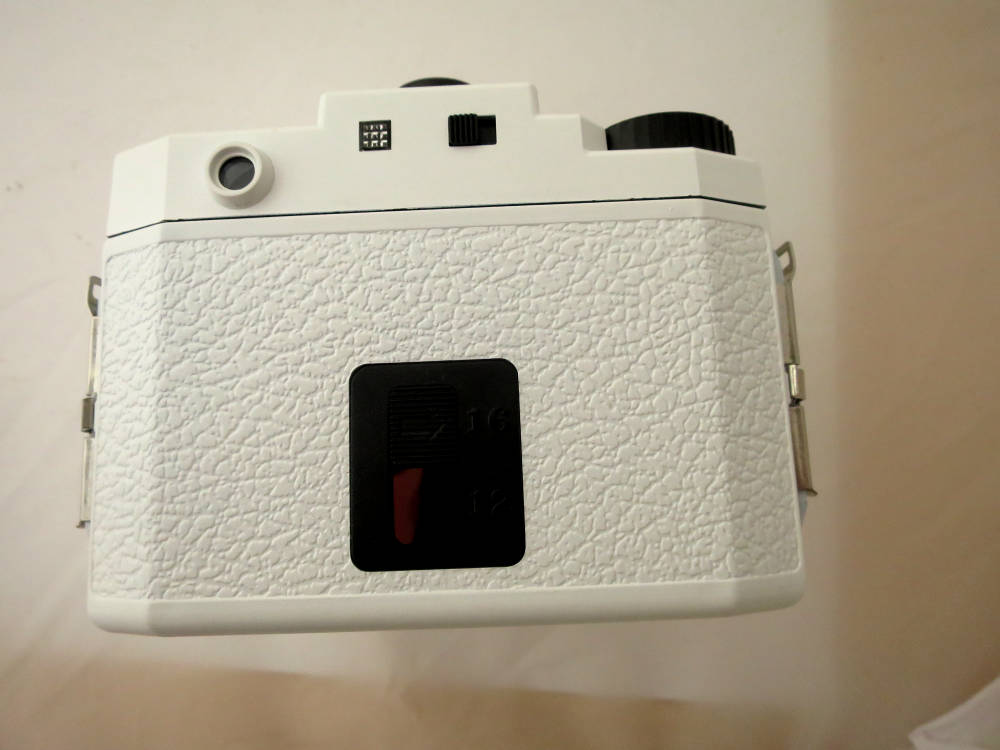 Camera back. Flash switch, flash ready lamp and red window.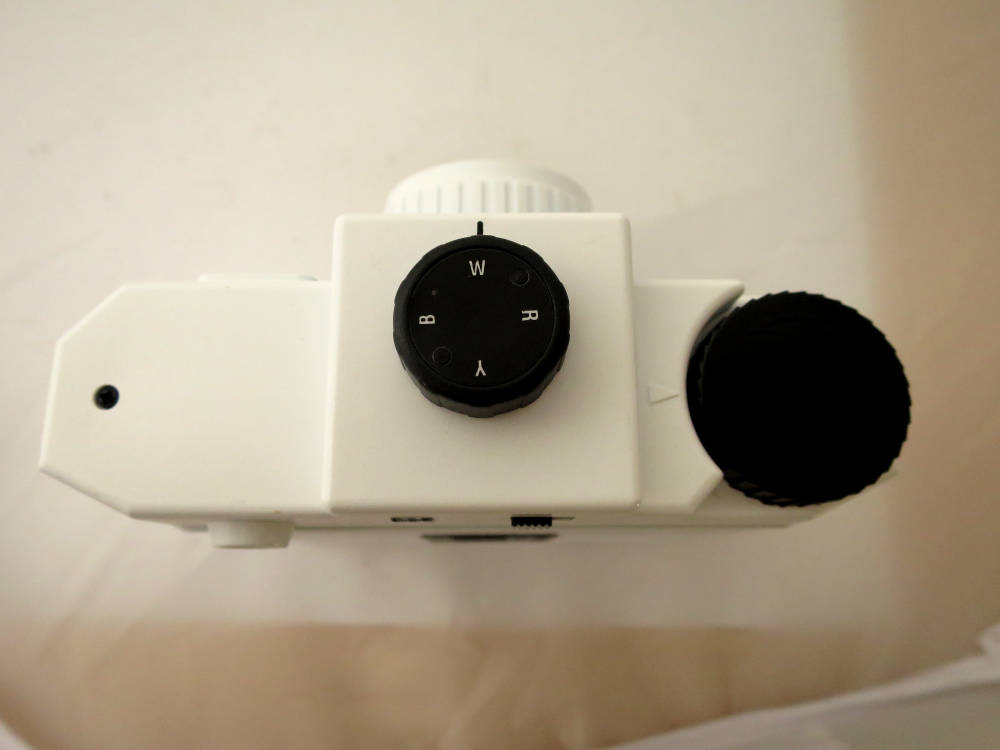 Camera top. Flash colour selector, film advance. Not visible: F-switch near the lens,



Camera bottom. Tripod socket, speed selector.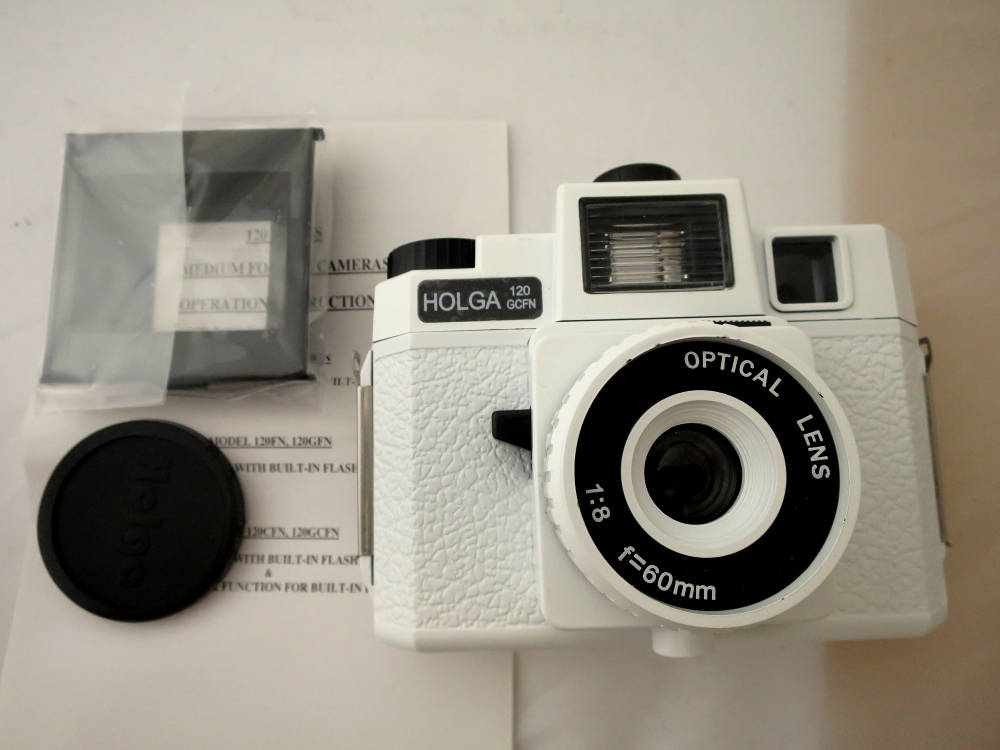 The basic set.



Film compartment.

The camera presented above, is a 120 GCFN. The original version was the 120 S. The 120 N (

N

for new) was an updated version with an additional B shutter setting, foam inserts for film tensioning and a better red window.

G

stends for

G

lass Lens,

CF

for

C

olour

F

lash. At the end of the page there is a 120 CFN version, so it's a plastic lens with colour flash.

This camera is heavier than the Diana and feels more solid. As the Diana it

is a basic plastic camera with only one speed, no automatic exposure, no automatic film advance, no autofocus, not even a rangefinder, cheaply made plastic lenses that produce heavy vignetting and random results.





Probably because it's more solid than the Diana, it has attracted more DIY people, Holga-mods are famous. There are plenty of discussions across the forums worldwide about the Holga. You shoud read some of them, they are interesting.

As for the Diana, I don't think about measuring, I guess and I try.

So for me the Holga is a nice find.



A Holga with plastic lens and its original box and accessories.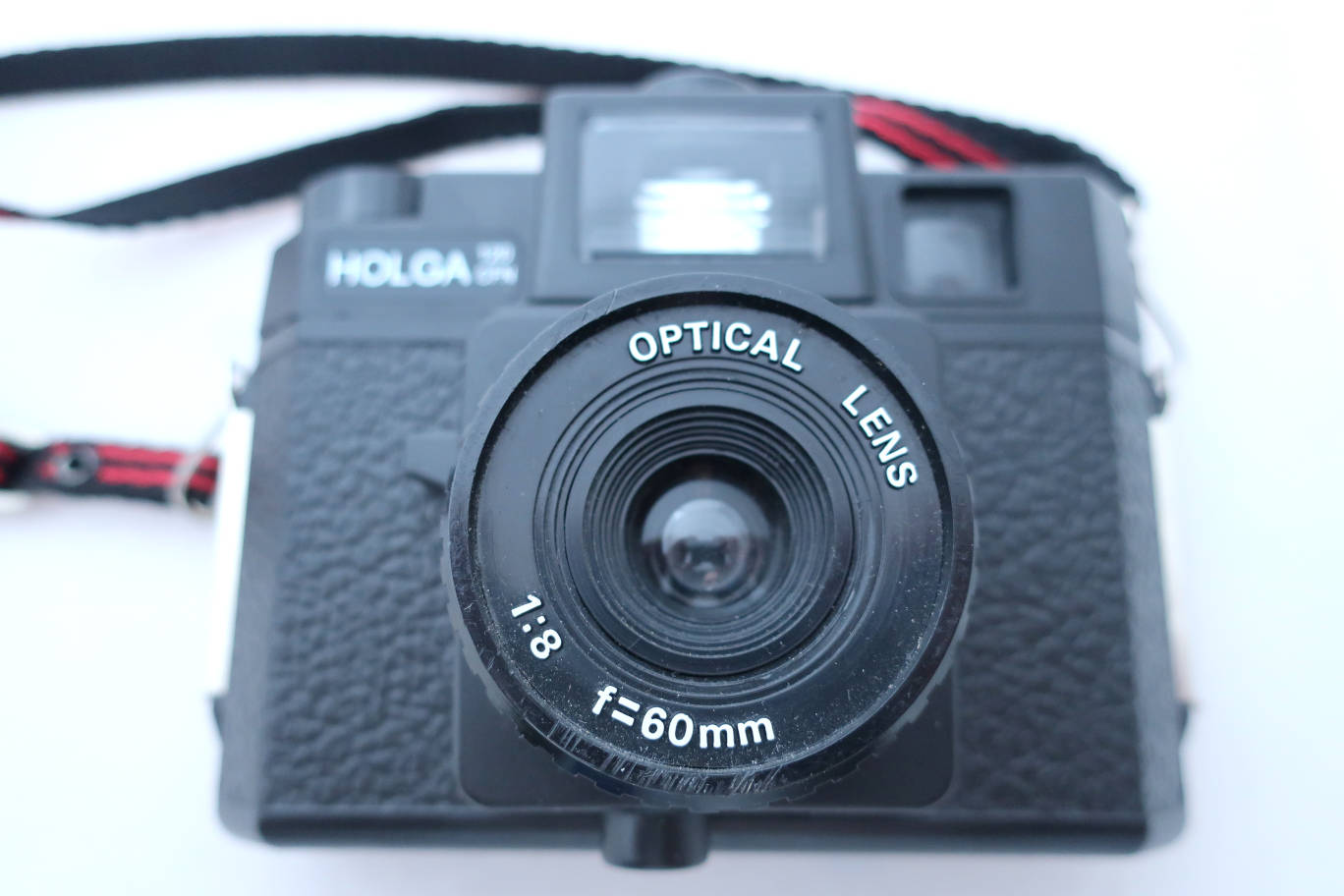 And an old black Holga which came in a plastic camera lot.