| | |
| --- | --- |
| plastikcam.com Lomo Sardina Beluga + Capri | |

The Lomo Sardina Beluga is a stylish, but technically a Lomo Style camera for 135 film. It is a basic plastic camera with a stylish metal shell, a plastic ultra wide angle lens and only basic features. It has an assorted flash with the same steam punk look. There are multiple versions of the Sardina in different styles, this one is said to be a collector's item.

There were cheaper editions without metal covering as the Beach Edition models, there is a Capri model at the bottom of th page. It also lacks the collapsible lens.

The main features of the Beluga are:

22mm plastic ultra wide angle lens, only F8, 2-zone focus 0.6-1m, 1m-∞
Shutter ~1/100, B
Size 115 x 60 x 60mm
Weight: 160g (without film or lens cap)
Features: frame counter, double exposure prevention, shutter cocked via film advance, cable release thread, multi exposure, special flash connection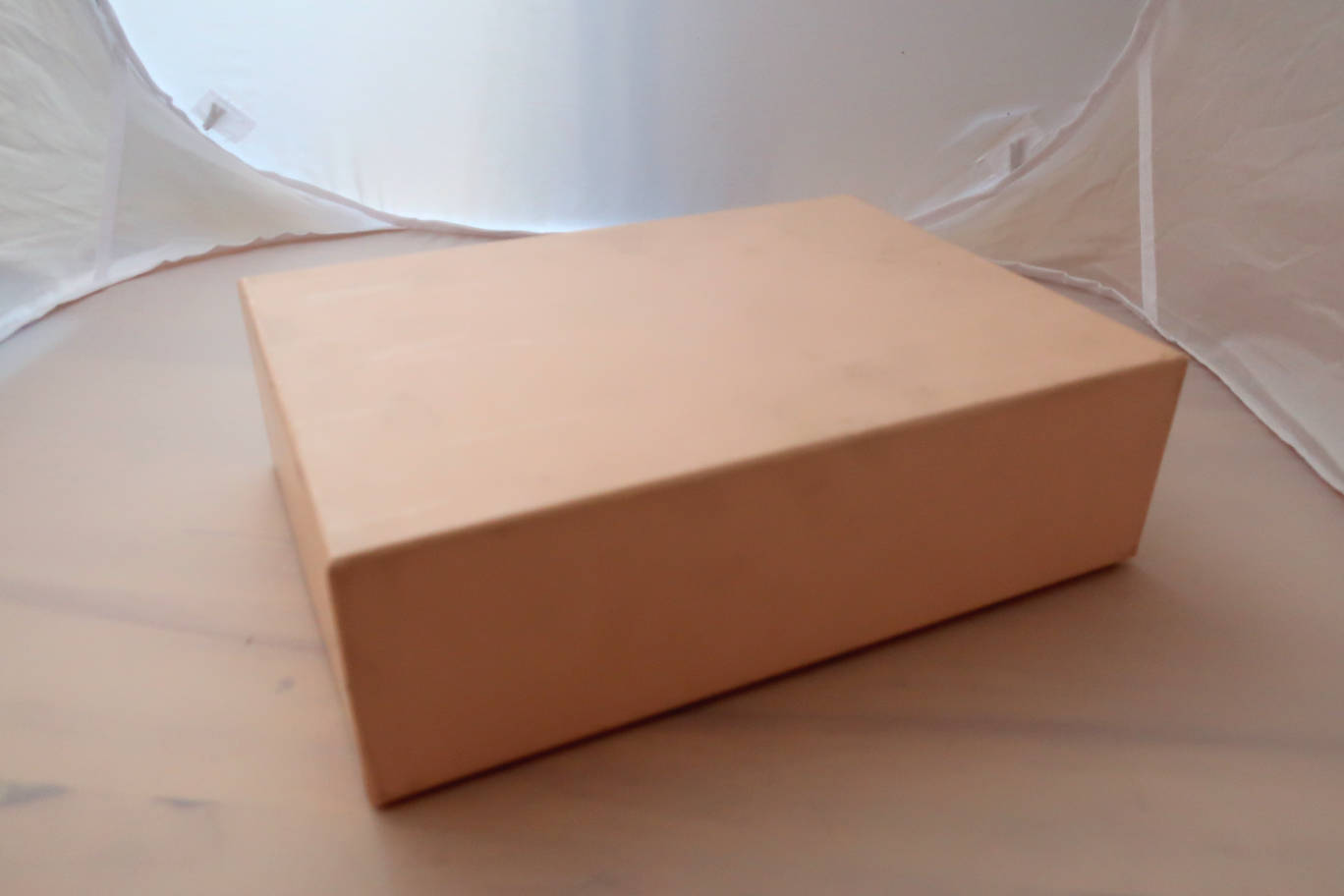 The box.



What's in the box. Camera, dedicated flash, colour filters for flash, poster with multilingual instructions on thr back side and 2 nicely made books.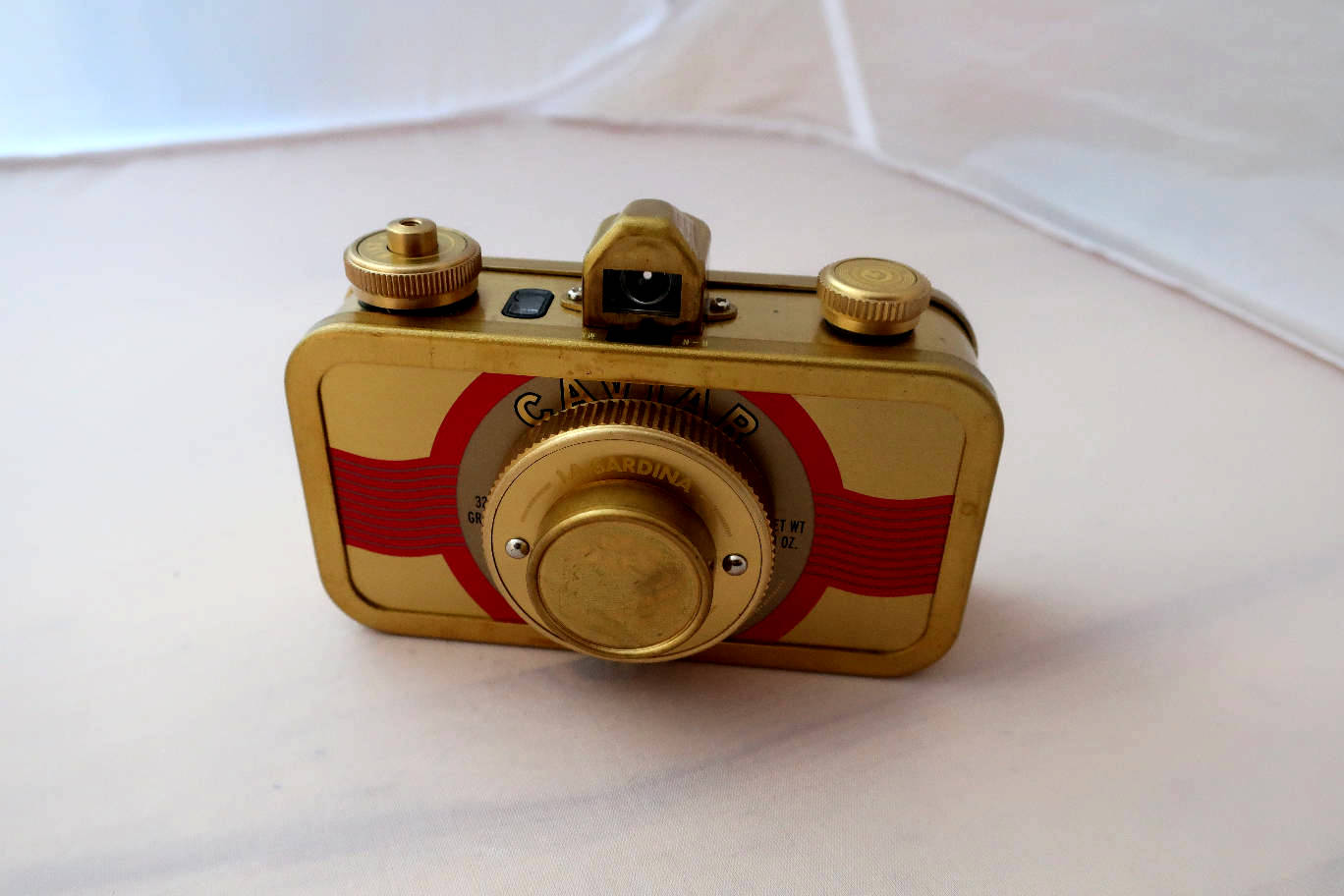 Sardina can style and size housing. The lens is collapsible. Attention: there are later versions that don't have a collasible lens !!!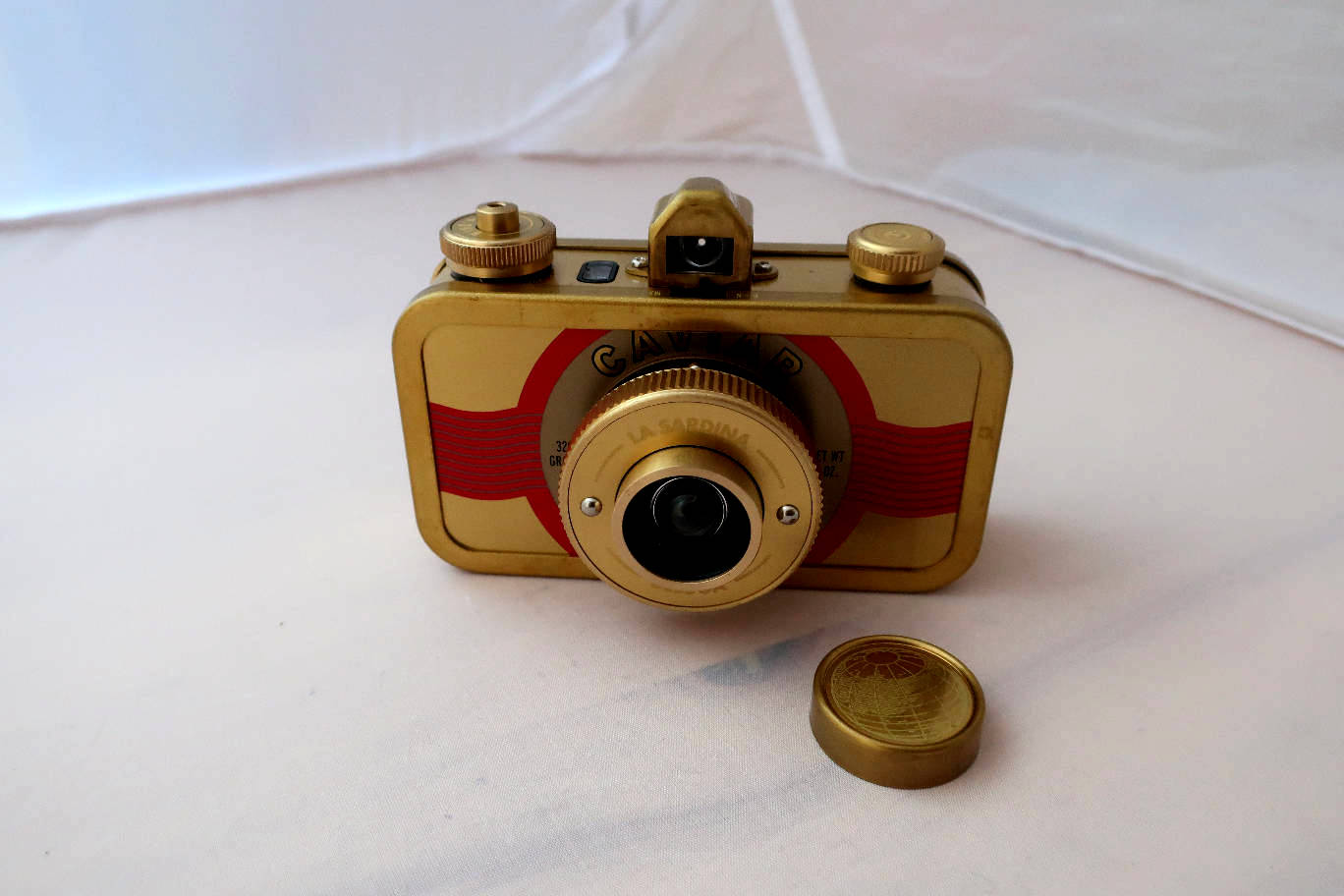 Lens extended and cap taken off.


Rear view.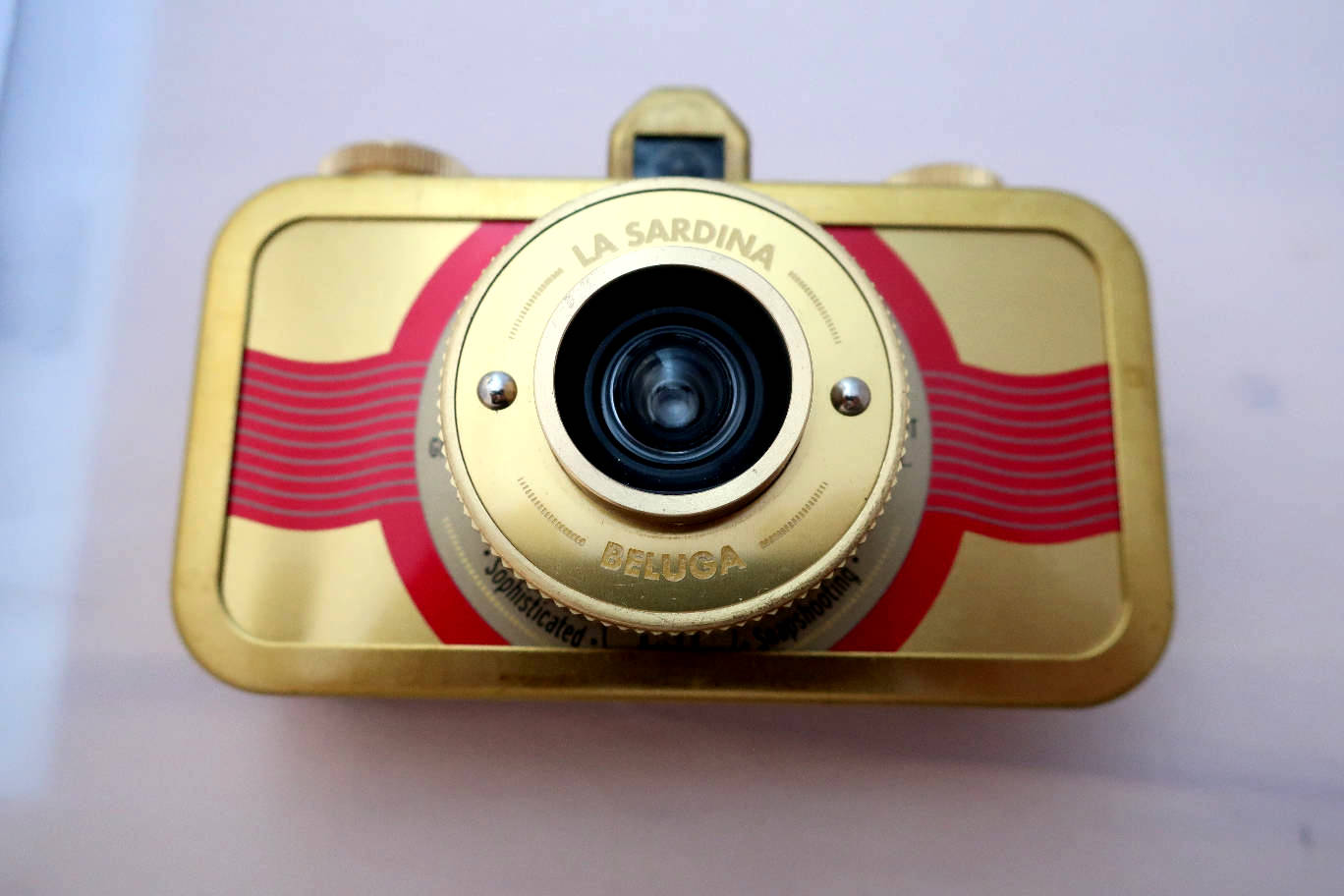 Camera front.
Camera back. Viewer, film presence window.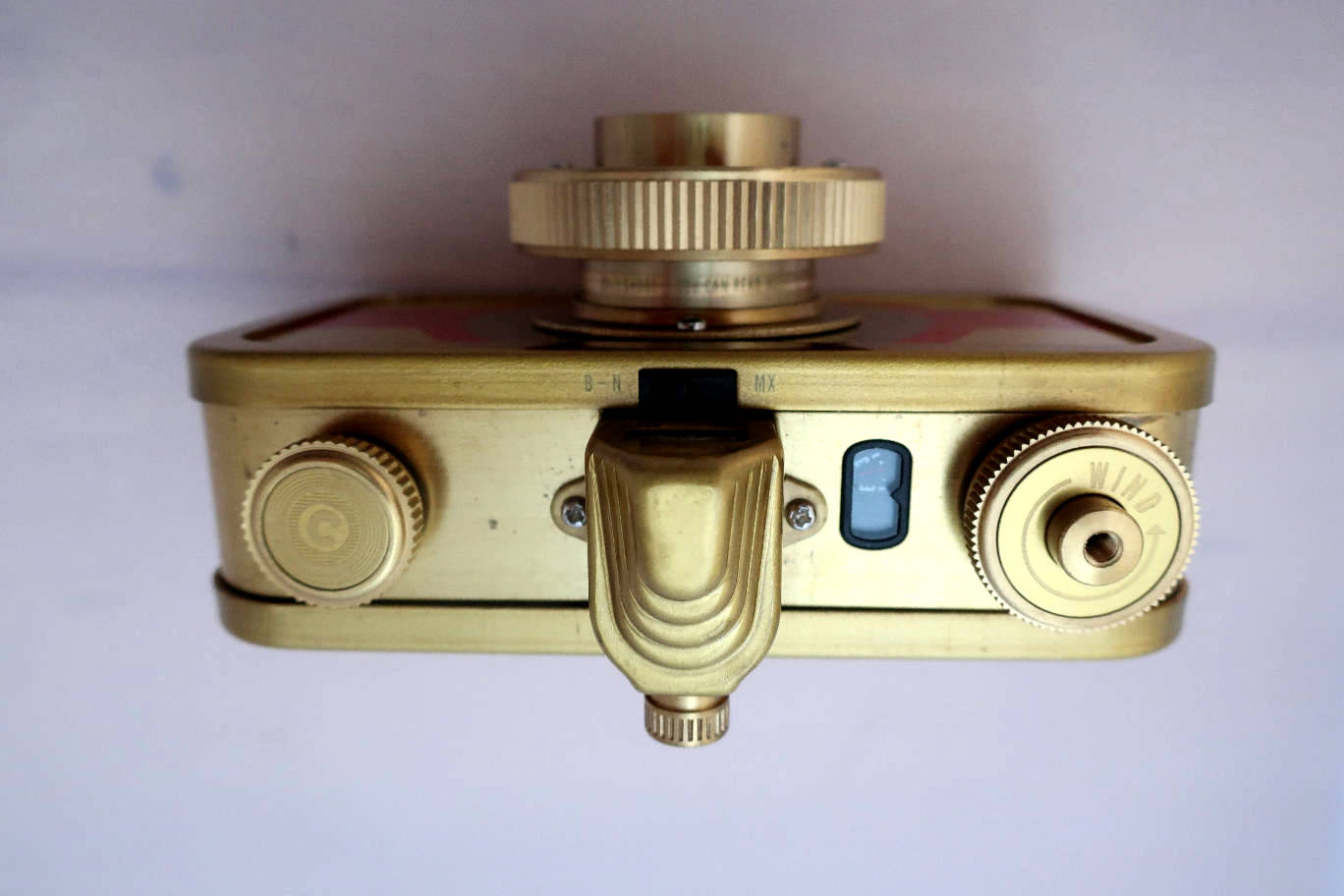 Camera top. Rewind, viewer housing, film counter and film advance with shutter release. In front of the viewer: switch for normal and B shutter, multi exposure release. Inscription on the lens barrel: "Only shoot if you can read me". Hardly visible on the front of the lens: focussing distance, ∞ setting, can be set to "close" by turning the lens tube.



Camera bottom. Tripod socket.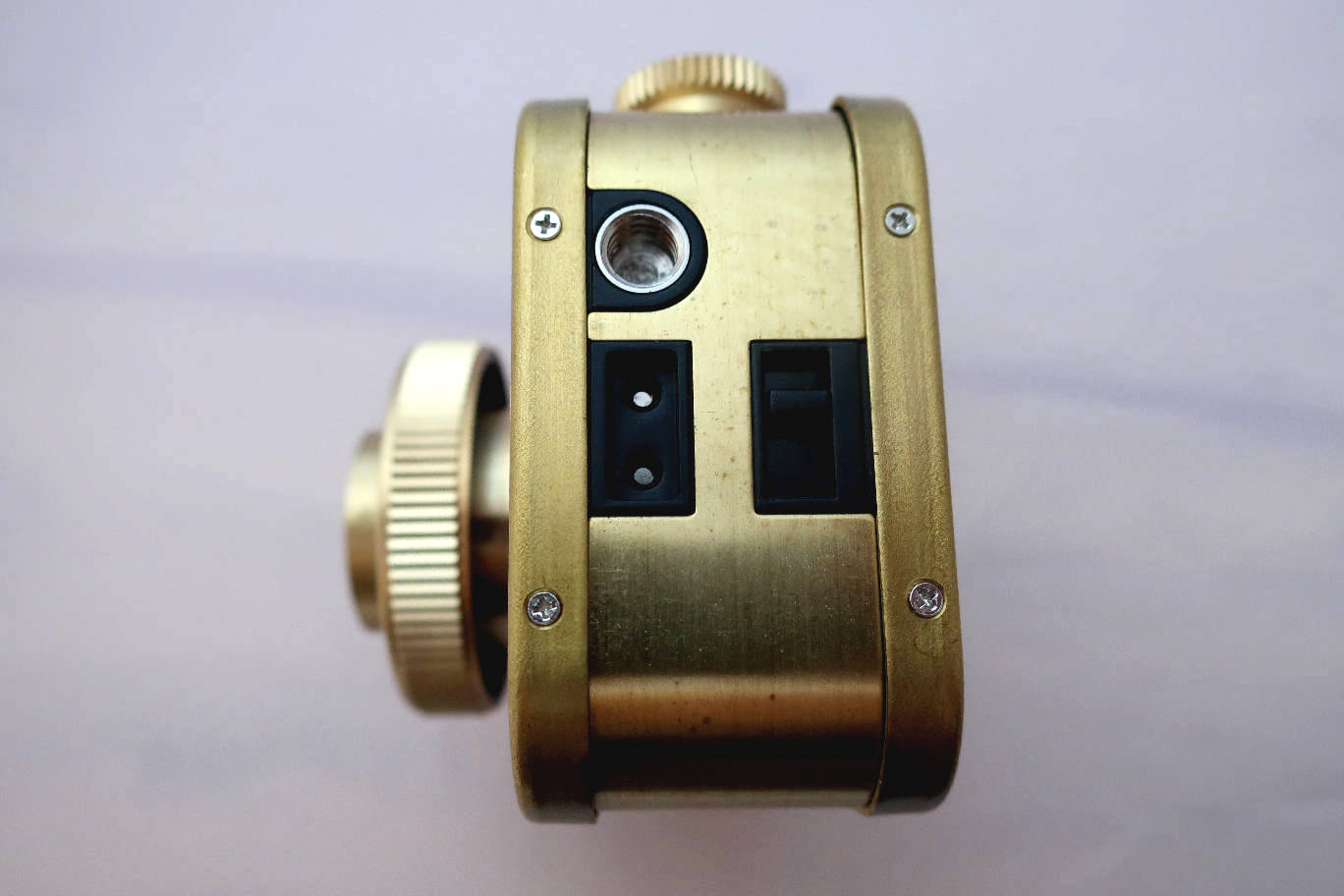 Right side. Flash fixation, special flash socket, and camera back opening release.



Left side.



Camera back open.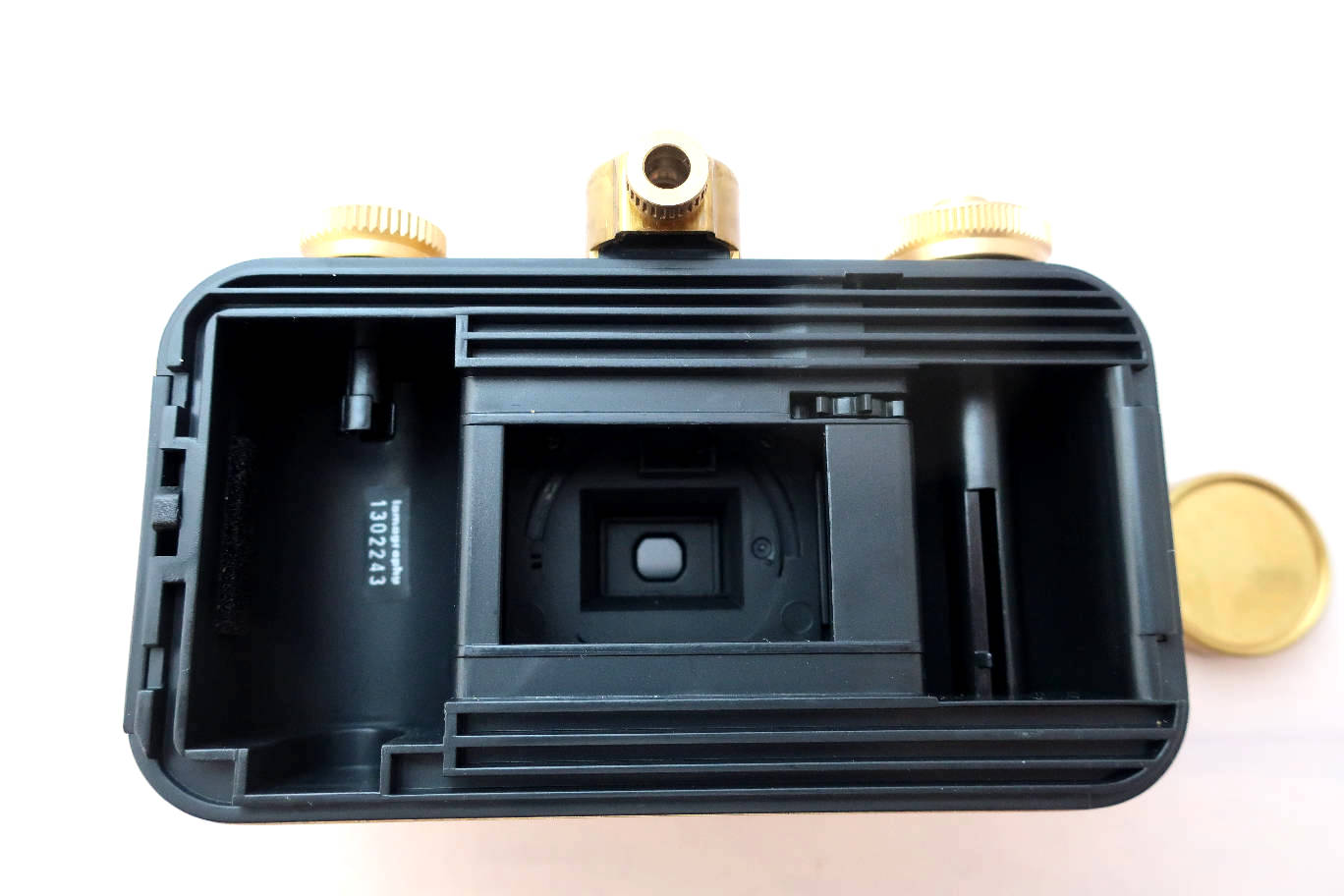 Film compartment.



Camera and assorted flash mounted to the Sardina socket. The flash is called Fritz the Blitz.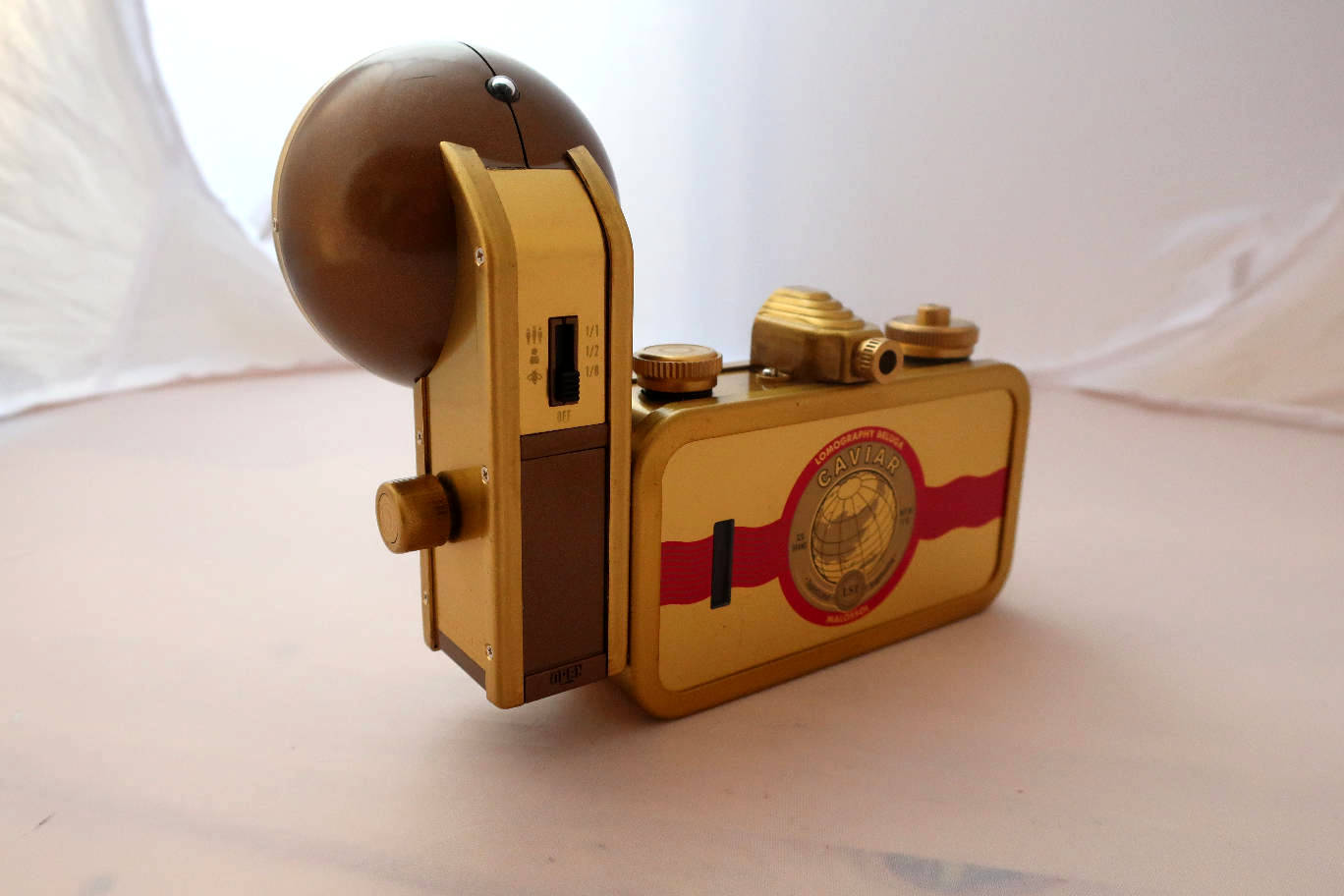 The Flash needs a CR123 battery and is quite powerful for a small flash, guide number 16 at ISO 100. It has 3 power settings.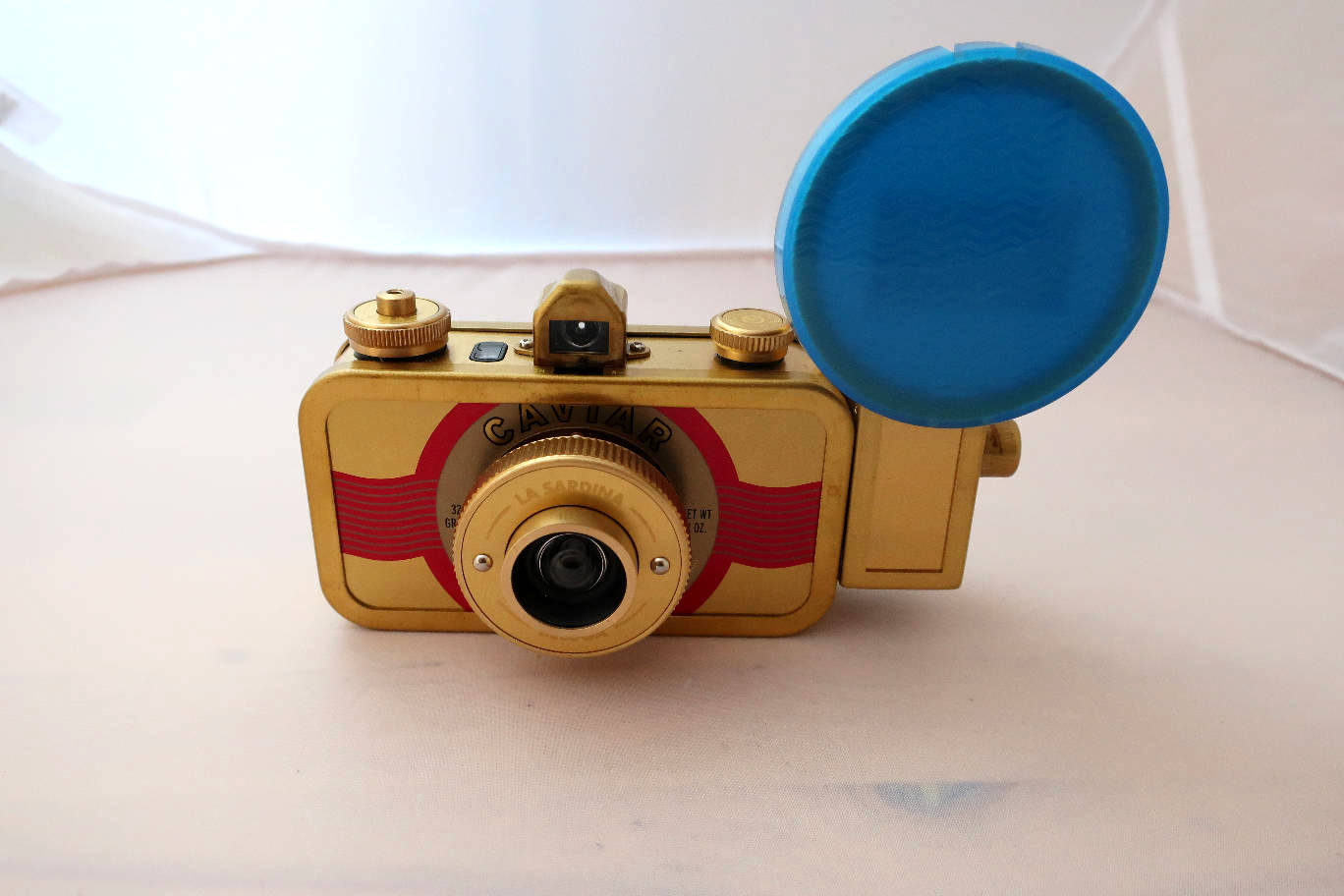 Flash with colour filter mounted.

A model from the Beach Edition, a Lomography Sardina Capri. There were 5 Capri Editions at first in 2012, this is not one of them, it's a later edition. On this one the lens is not collapsible, so it lacks the inscription on the lens tube. Lomography said that too many people had problems with the collapsible lens.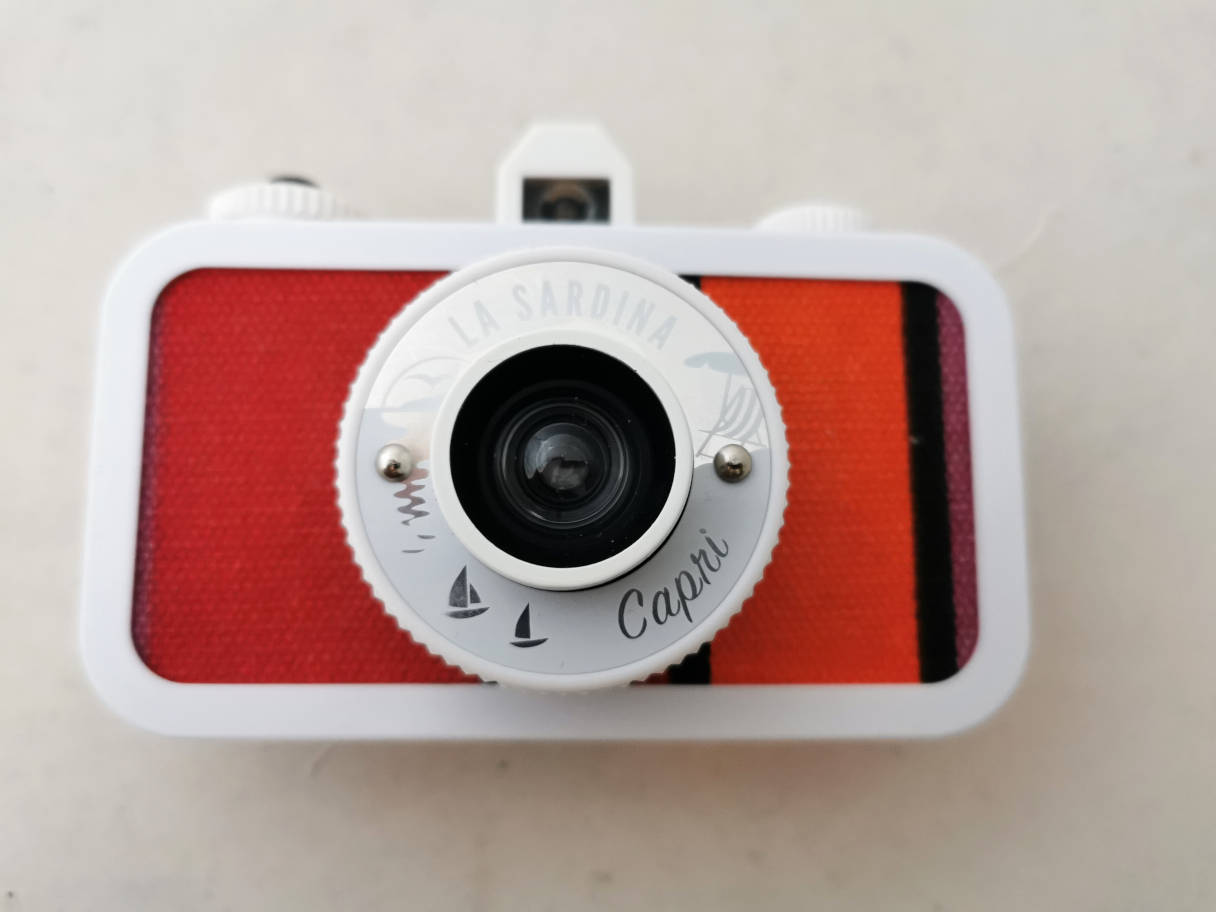 Front, Vivid colours and no metl covering.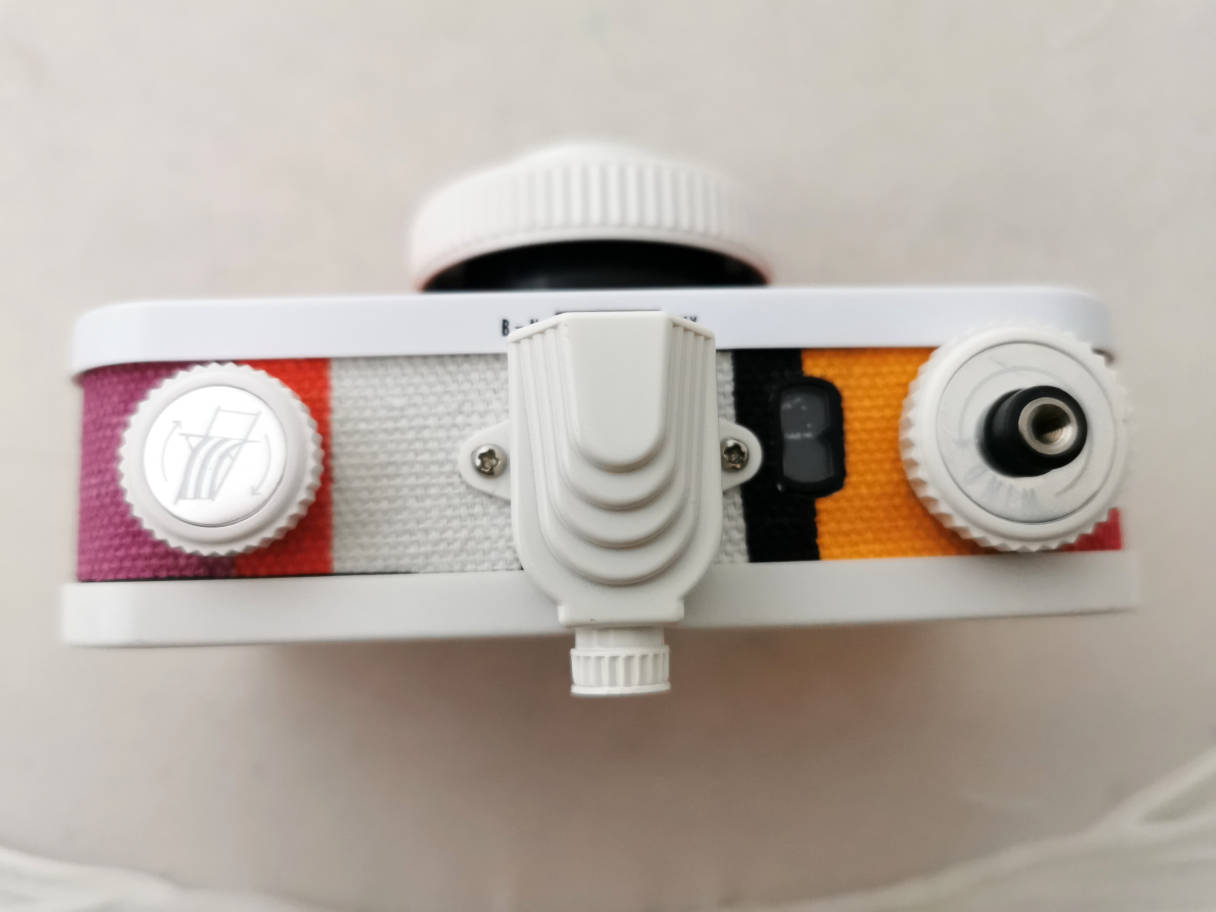 Top.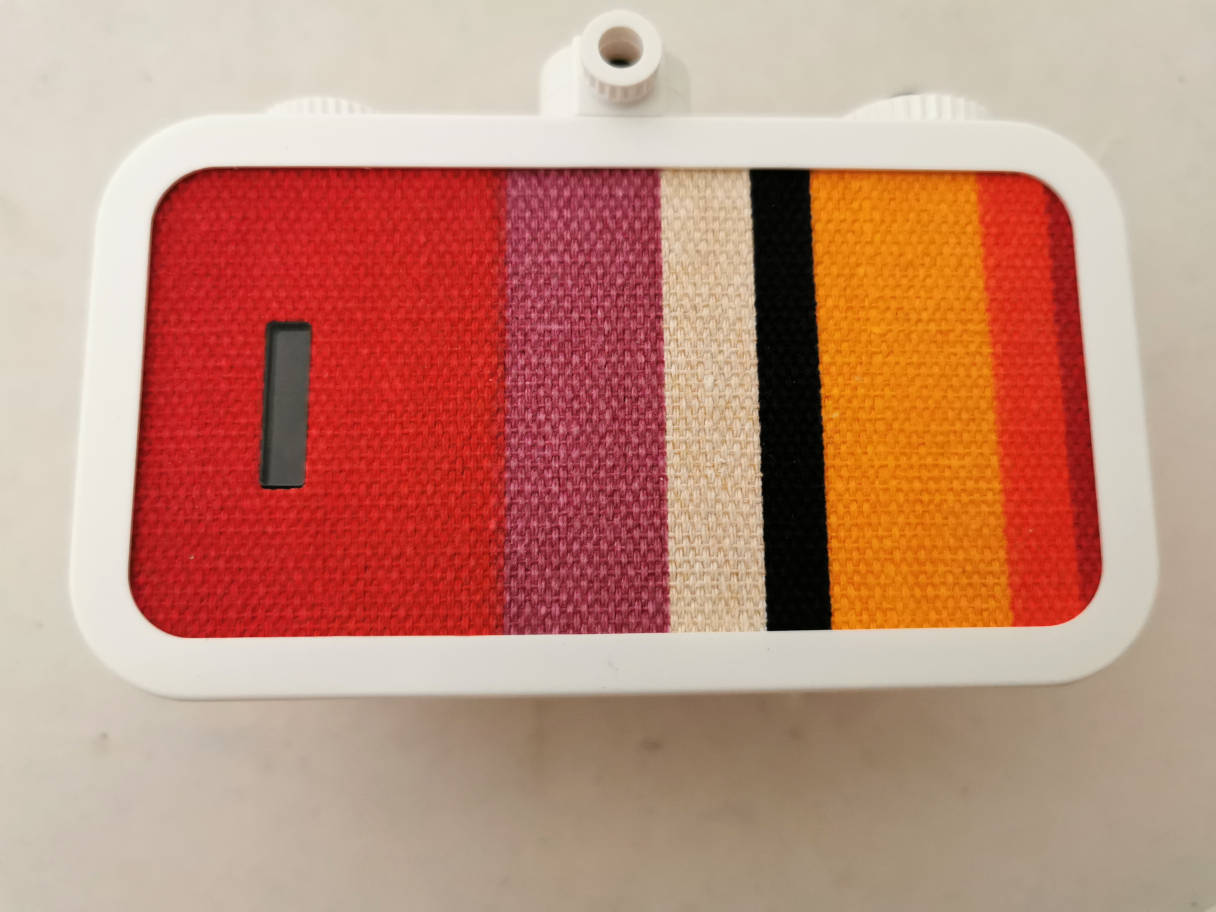 Back.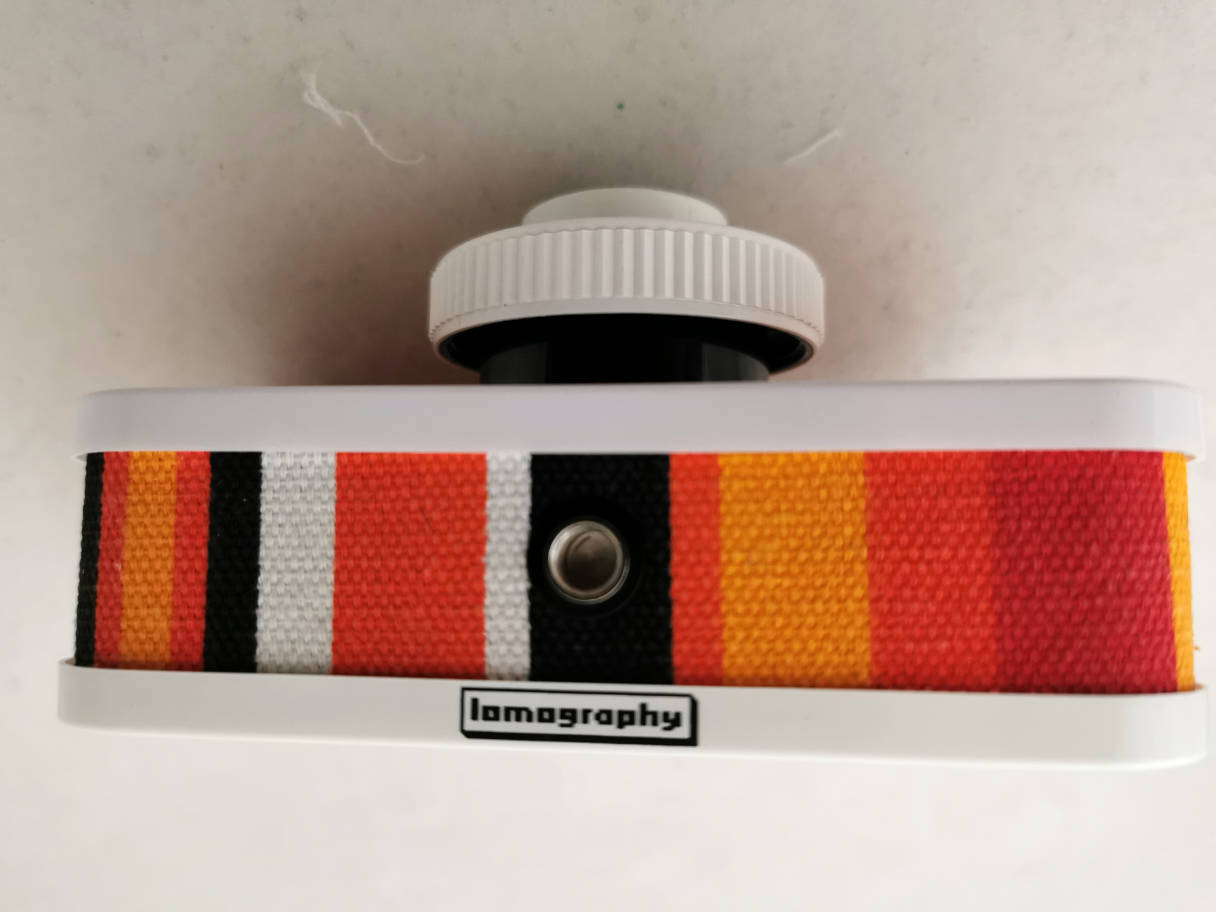 Bottom.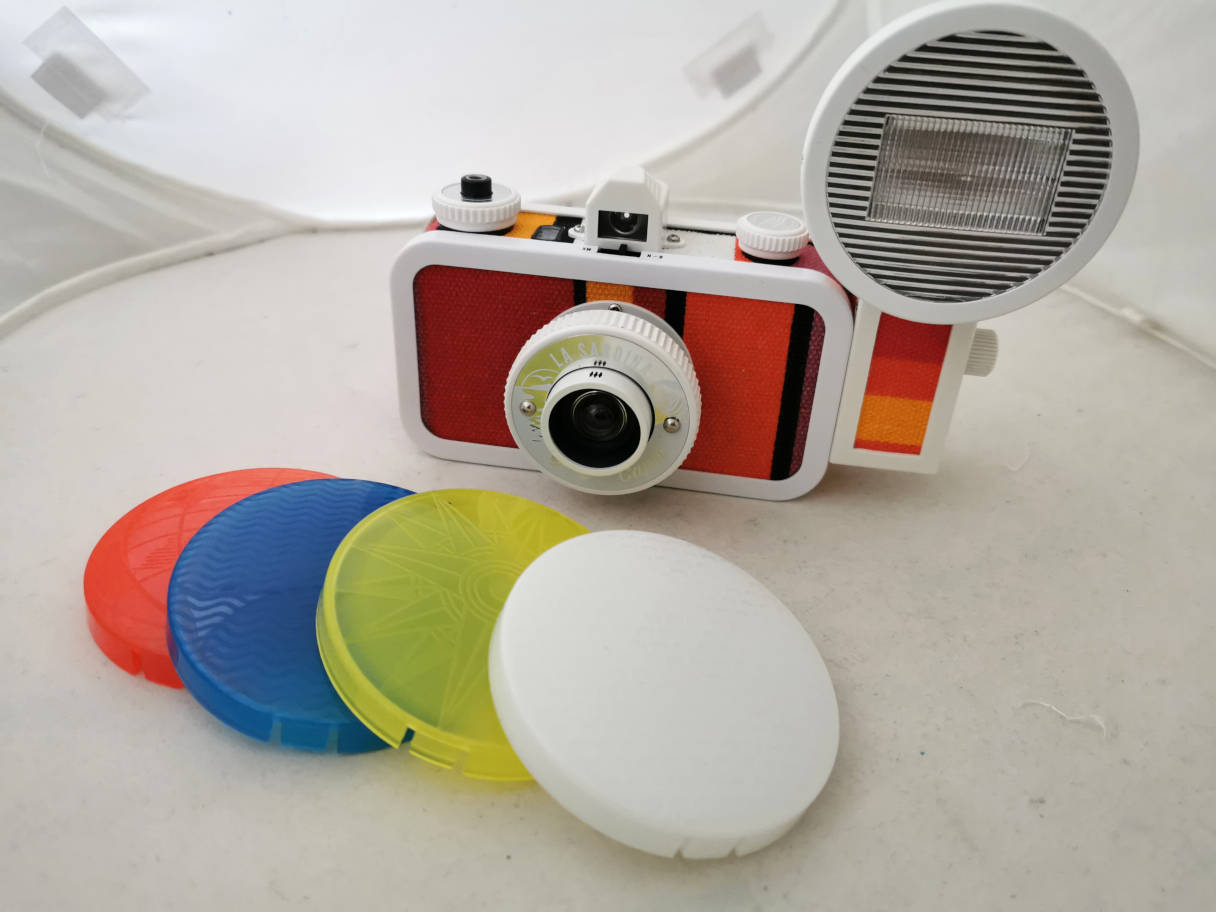 The set with flash and clour filters.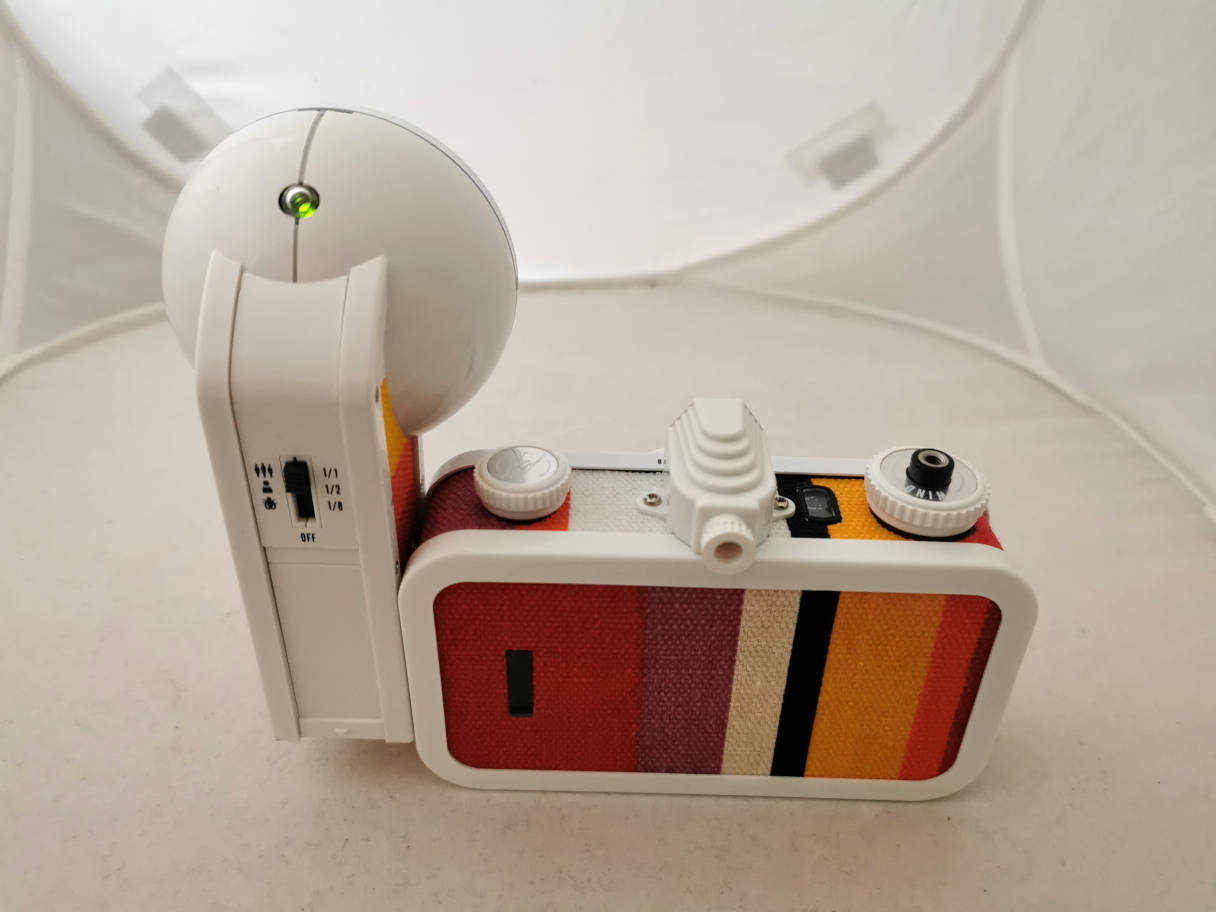 Flash ready. You can press on the lamp to test-fire the flash.

To get the Sardina camera ready, you have to extend the lens. Turn the lens 1/4 turn anti-clockwise, extend and turn back clockwise until it clicks into its shooting position. Now you can read the i

nscription on the lens barrel: "Only shoot if you can read me". The camera and the flash will not work if the lens is not extended. It may be difficult to collapse the lens on some cameras, you will need a bit of force to unlock (anti-clockwise). But there are models without collapsible lens. These have no inscription on the barrel. Do not try to turn these!! Lomography did not care to update the instructions on their website!!



The Lomo Sardina

is a basic plastic camera. Some have a very stylish and solid metal housing. It has only one speed and only one aperture, no automatic exposure, no automatic film advance, no autofocus, not even a rangefinder, a cheap plastic lens that produces some vignetting and random results.

It feels more solid than Lomo Diana cameras. As for other Lomo cameras, I don't think about exposure, I try and hope for the best. Modern colour film helps.

So for me the Sardina is a nice find.

I got my Caviar in near new condition with the original box and its sought after flash for a small sum on Ebay, it was less than you pay normally for the flash alone. So it was worth a try. There are adapters and cables for the flash to be used on other cameras. That's why Fritz the Blitz is so much sought after with its 3 different power settings. If you have the flash, I would recommend to get the cables and adapters.

My Capri model came in a camera lot with the assorted flash for next to nothing. A very pleasent find.

Some gereral words about Lomography and their service: There is a 2-year warranty, at least in Europe. My personal experience with their service is very good. As most of their cameras are made of (cheap) plastic, there is no repair, they just exchange your defective camera. You have to send it in to their Vienna office at your expenses, which is not cheap if you are not based in Austria, but they try to compensate by adding film or so to the return. You absolutely need a proof of purchase, there was heavy abuse by fraudulent customers they told me. So if you buy second hand or your camera is gift, be sure to put your hands on the proof of purchase. After the 2-years warranty period it's over. They will try to help for the expensive not-so-plastic cameras like the LC series, but for the rest there is no repair. Keep this in mind for the prices you pay for older gear.