| | |
| --- | --- |
| plastkcam.com LOMO LC-A 120 | |

The Lomo LC-A 120 isn't a cheap camera, but it's a unique plastic cam. It's smaller than most of the folders, it weighs less. There is no wide-angle folder, let alone an ultra-wide. And you can slide it into your pocket as any folder. The Lomo LC-A 120 is built in China, it's all-plastic, except the lens, there is no rangefinder, just a 4-zone focussing lever and the shutter is all automatic, no means of manual intervention except the ISO dial. The camera chooses aperture and speed, but doesn't let you know its choice. However the choice is quite reliable, it is a fun camera with ambitions.



The camera was

released in 2014 by Lomographische AG, Vienna and

is obviously based on their Lomo LC-A+. The

LC-A+ is remake of the

LC-A (non+), a Russian 35mm camera built by LOMO, Russia, between 1984 and 2005.



Size (mm): 125* x 108 x 63 *without strap lugs
Weight: 360 g
Lens: Minigon XL 1:4.5 38mm (21mm equiv.), closest focus 0.60 m
Shutter: full automatic, B - 1/500, F 4.5 - 16, ISO 100 - 1600
Finder: simple viewfinder, 4-zone focussing (0.6, 1, 2.5, ∞)
Film advance: automatic via knob

Here are some photos of the camera. There is a short introduction to the use of it and how it feels at the bottom of the page.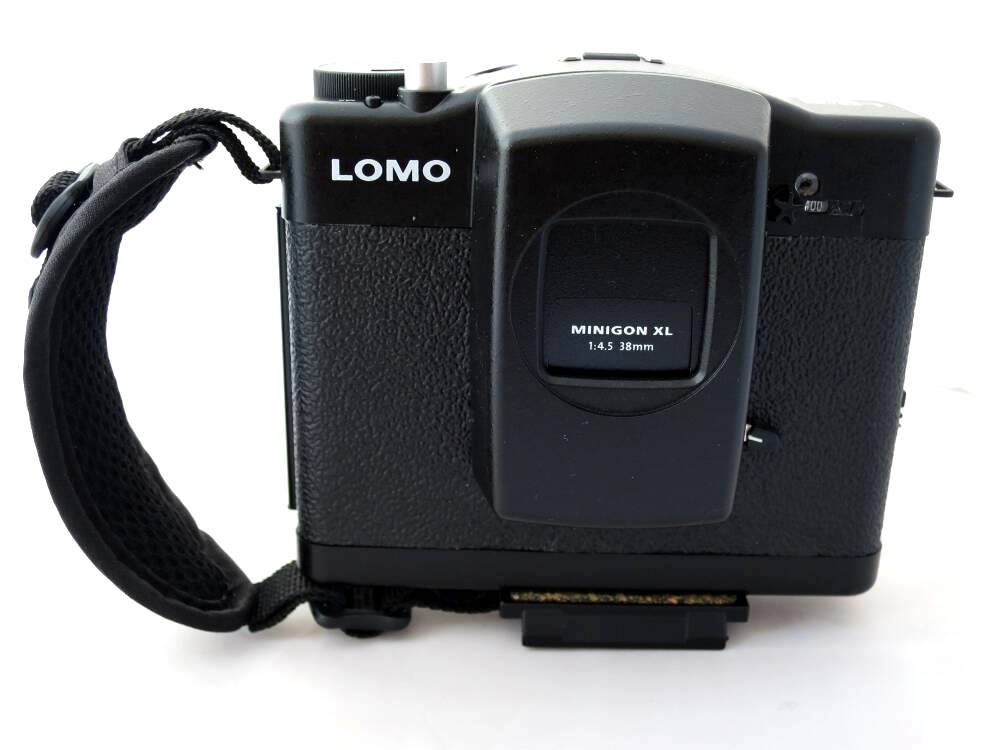 Camera closed. The grip is a Case Logic grip attached to a Manfrotto 200PL style quick release plate, a special plate made by HorusBennu for their grips. It allows you to use the camera, with the grip attached, on a Manfrotto RC2 Rapid Connect Adapter.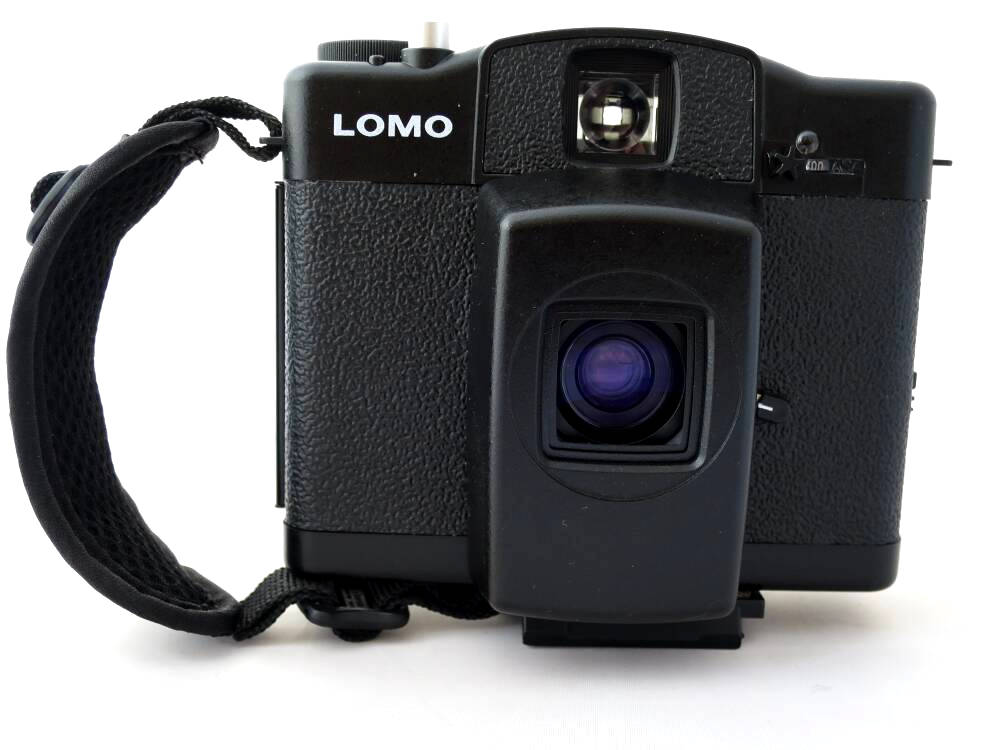 Camera front, open. To the right of the finder: ISO dial.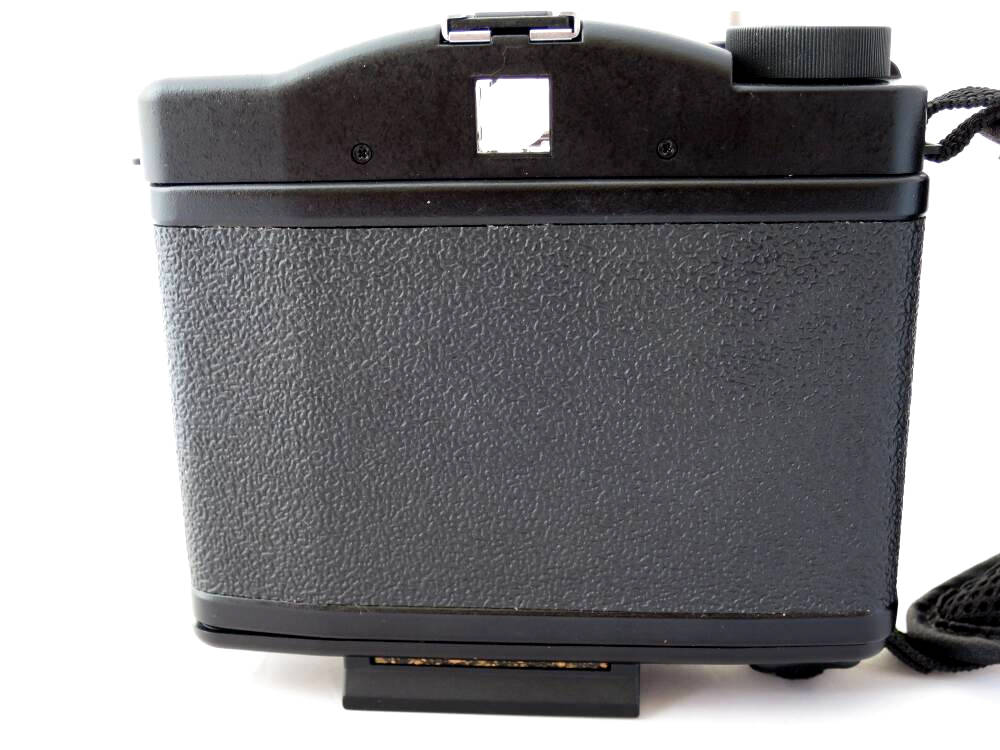 Seen from the back.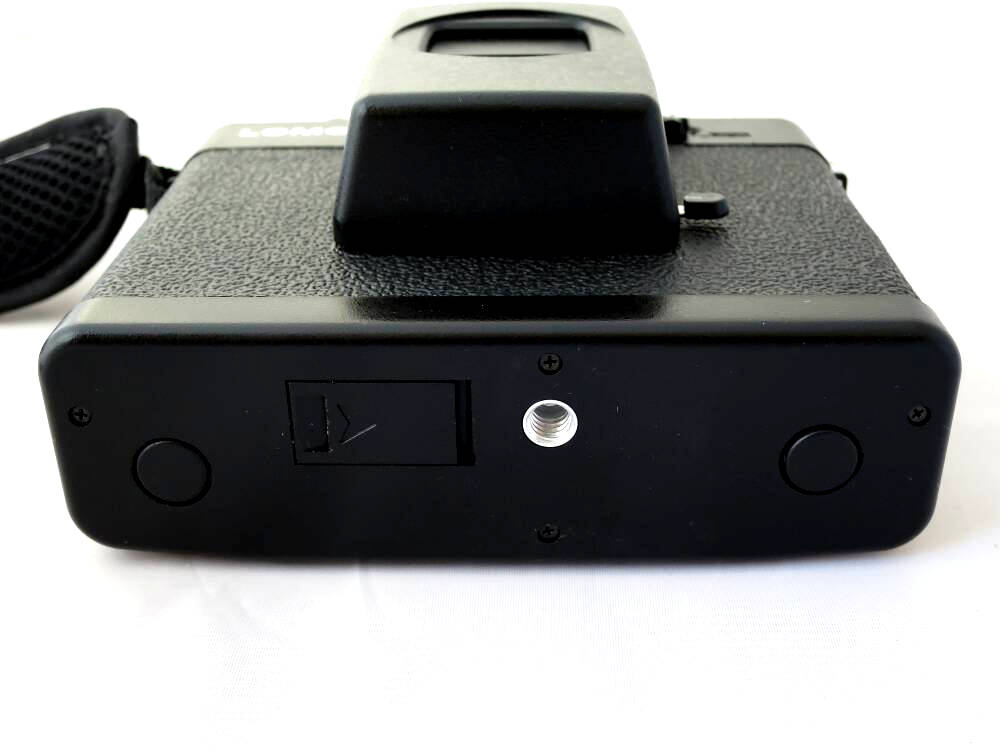 Seen from the bottom: tripod socket, peg locks, battery compartment (3 LR44)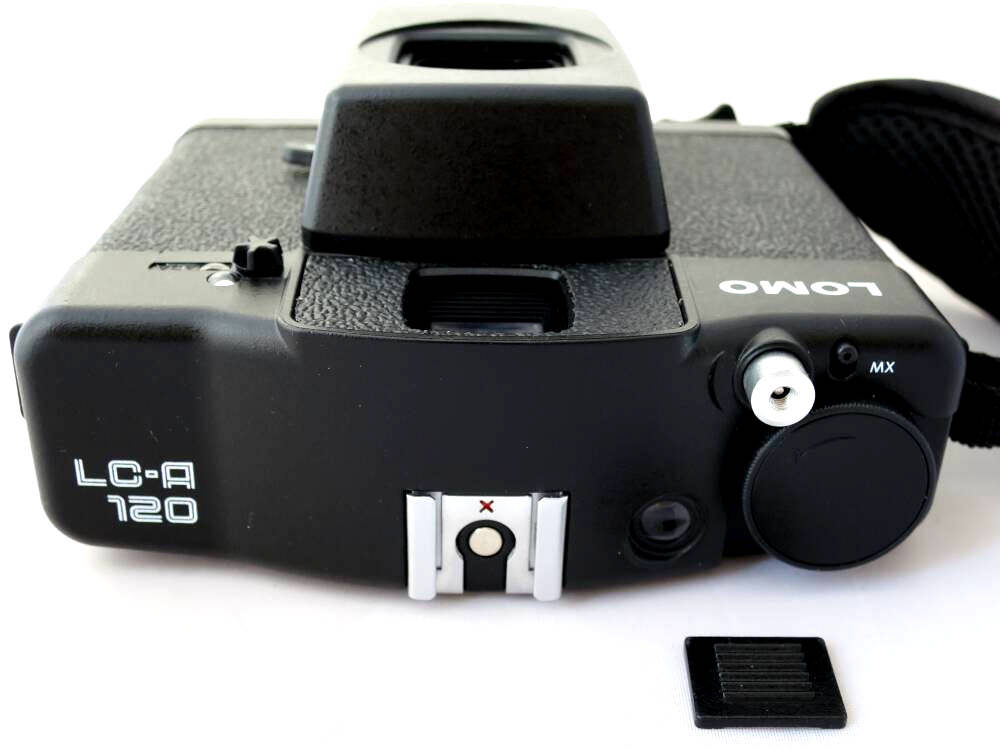 Seen from above. From left: hot shoe, film counter, shutter release button, double exposure switch, film wind knob. Hot shoe cover.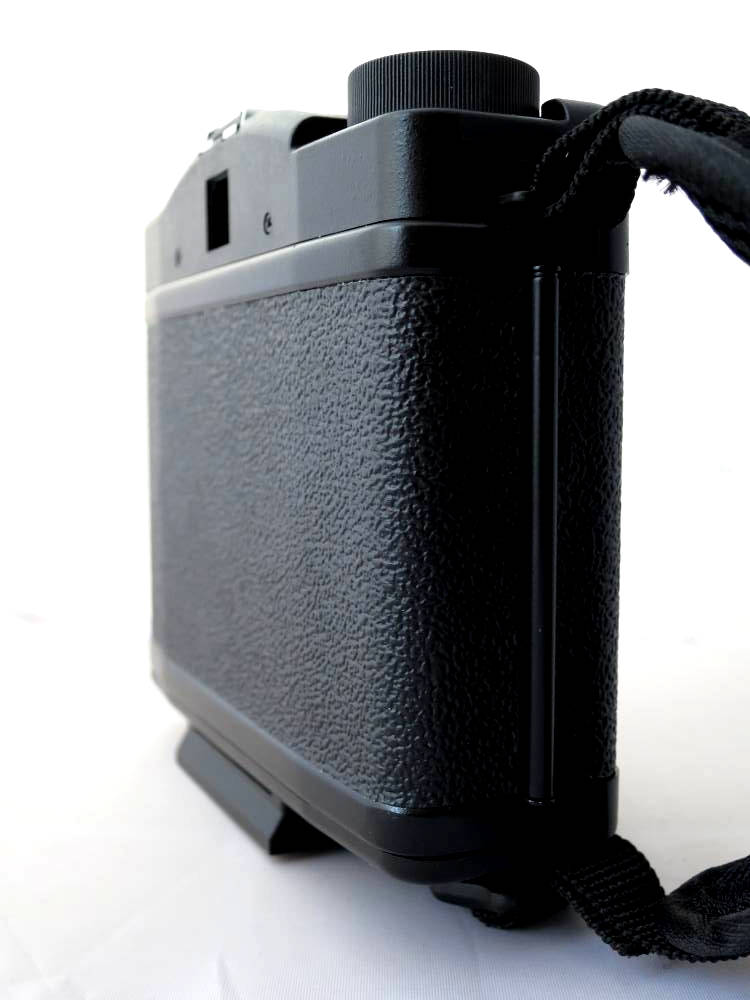 Left side.

.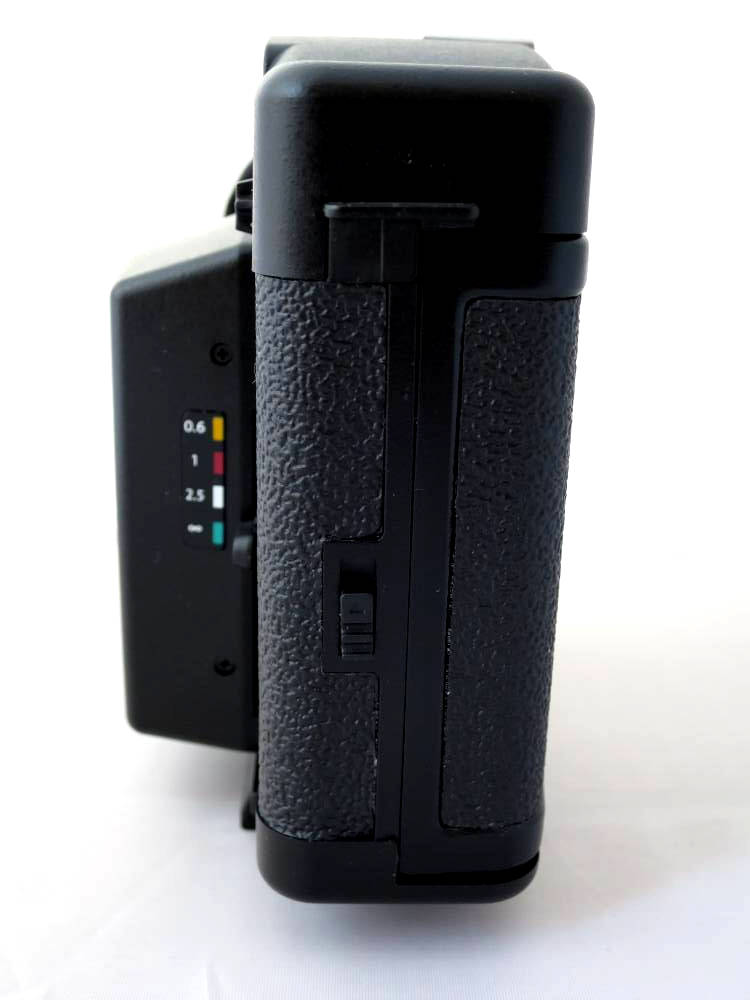 Right side. Camera back opening button. On the lens cover: 4-zone focussing scale, 0.6m, 1m, 2.5m, ∞

and lever.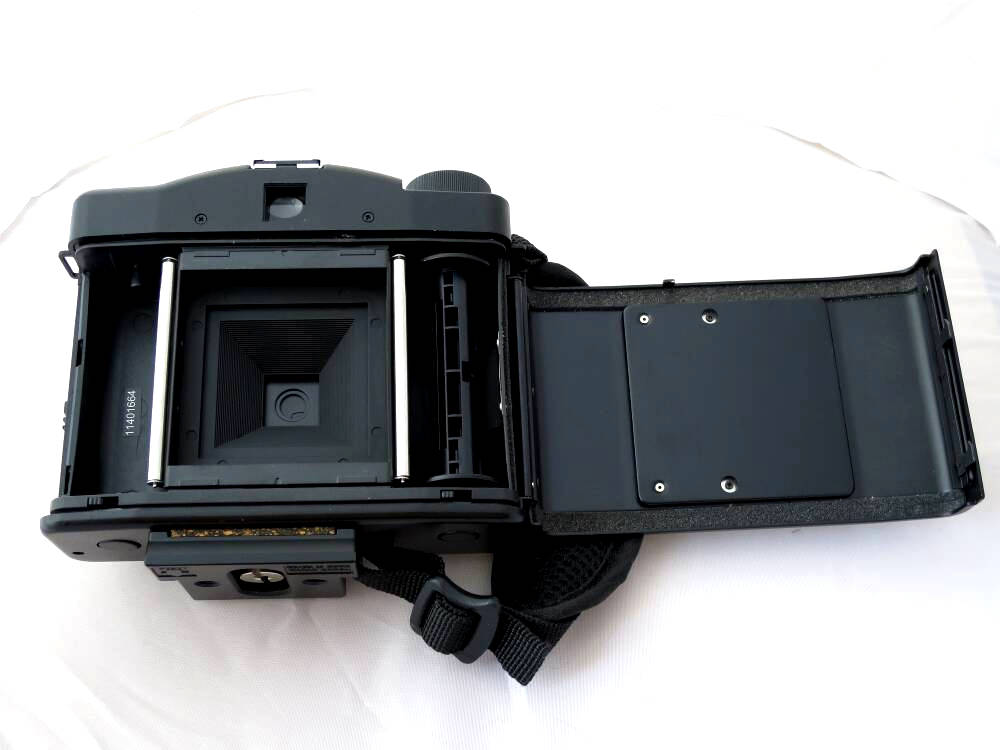 Camera back open.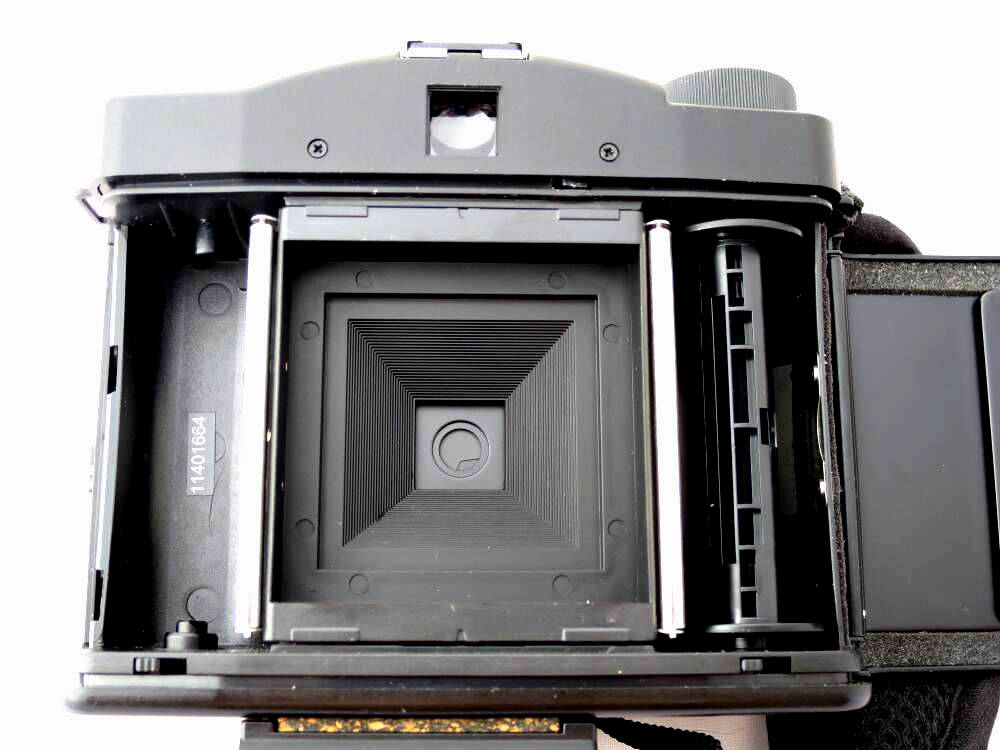 Film chamber. Note the 2 switches to liberate the pegs.

Just to give you an idea of the photos it takes: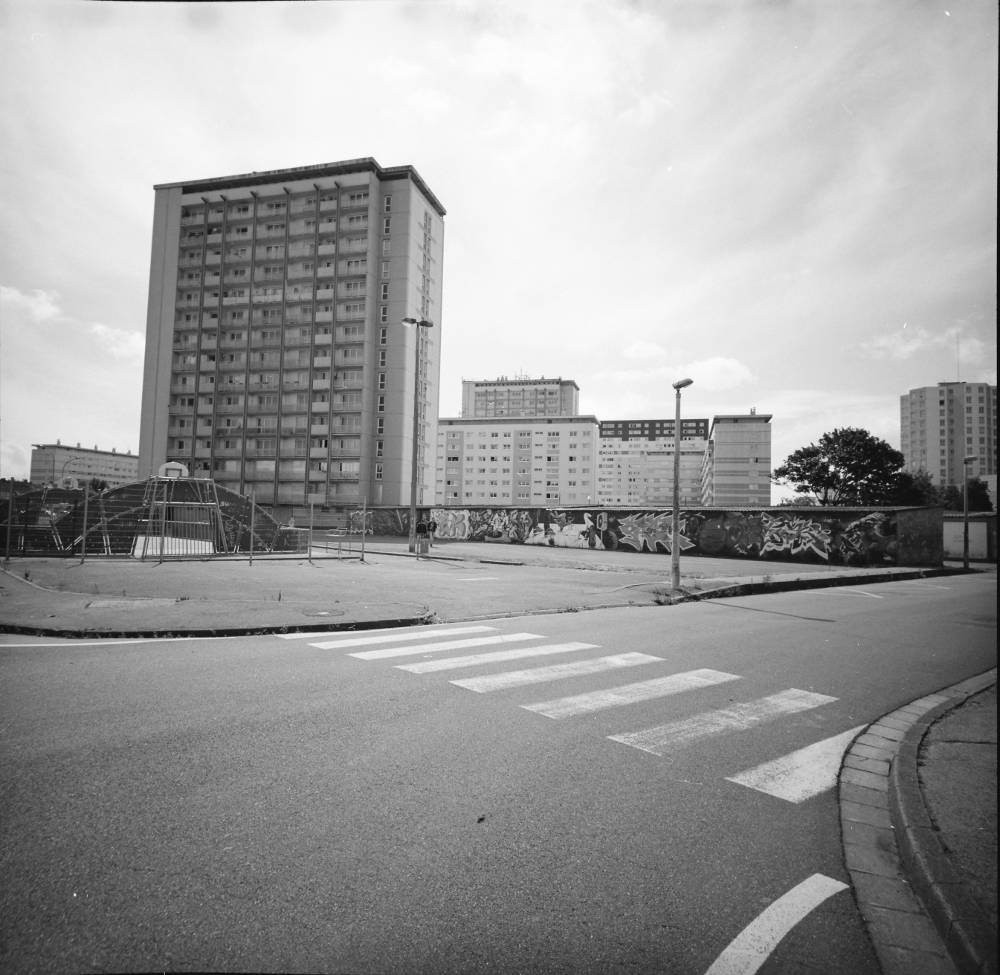 Calais, Quartier du Beau Marais, on a grey day (Ilford HP5)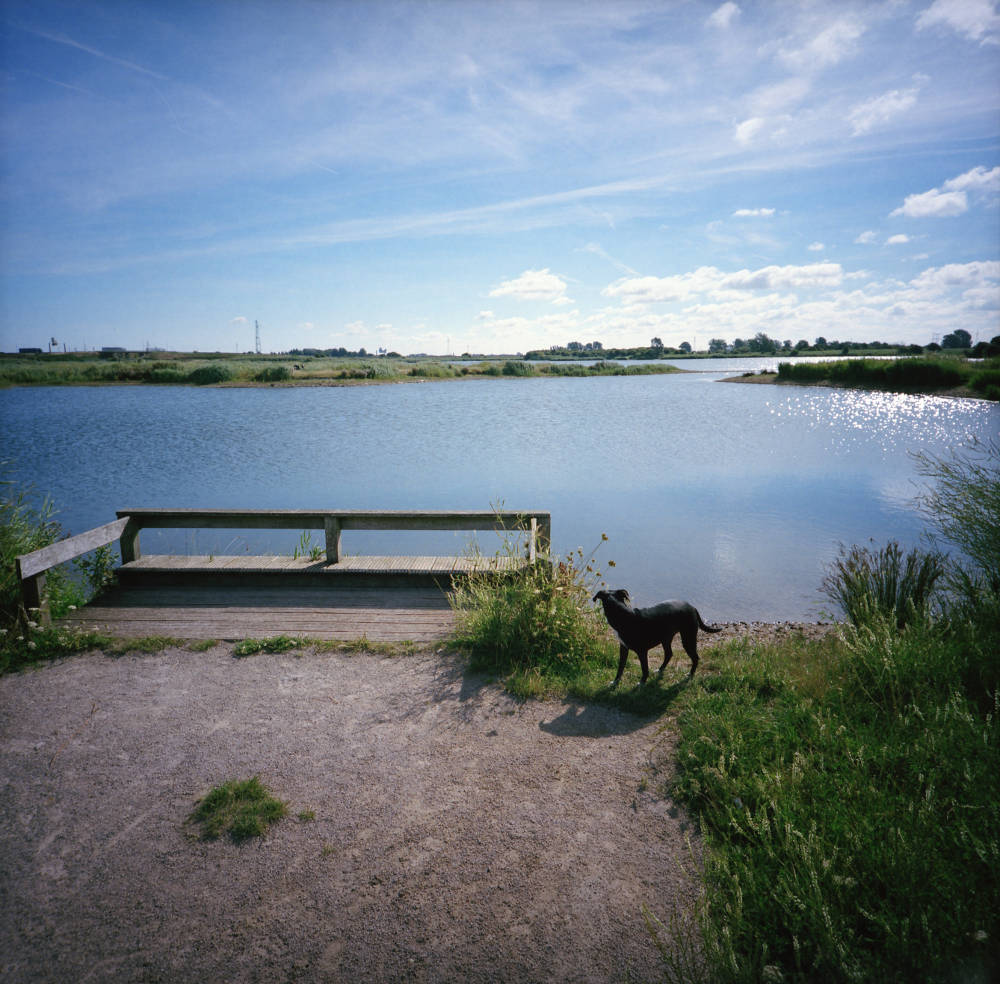 Calais, fishing pond au Marais.

Handling a Lomo LC-A 120 is easy, everything is where it should be, it has just the basics. It's quite like a 120 film folding camera. Loading film is fine. Open the camera back and put the film roll into place, the pegs on the bottom retract via the switches. Same procedure for the take-up spool. Insert the film paper backing into the spool and advance it using the advance knob until the film start arrow matches the marks in the middle of the film plane. If you stop about 3cm earlier, you may not loose half of the last photo. Film wind is uneven and you have to adapt to your camera. Close the camera and wind until the window will show "1", film wind is automatically stopped.

Slide down the lens and finder cover. Set focus distance. Look through the finder and compose your picture. Press the shutter button halfway down. There are two LED on the upper border of the finder. The left one has to be lit, it indicates good battery function. The right one will only be lit if there is low light to warn you to keep your camera steady. Then press the shutter down. That's it. Advance the film to the next picture, there is a double exposure prevention. The MX switch allows double exposure. Think about adapting the ISO setting and don't forget to set both back.

As it's a very wide angle camera, focusing is really easy, it has 4 focal stops

at

0.6m, 1m, 2.5m, and ∞

. But you have to remeber to set the focus.



The Lomo LC-A 120 is a nice, special purpose camera, easy to use. It fits into a coat pocket. It's all plastic, but has a quite remarkable glass lens. Prior to buying I read all the crap that was copied and pasted by different blogs from the Lomographische AG press releases in guise of a review. They say that it's sturdy despite of being plastic. It isn't, it's cheap plastic, but it feels o.k if you already had Lomo gear. My original LOMO LC-A feels heavier and sturdier. On the other hand the Lomo LC-A 120 only weighs 360gr., half the weight of a good folder. Some manual correction and an indication of the chosen aperture/speed combination would be marvellous. There is no ultra wide 120 film folder on the market. The nearest would be an old Hasselblad SWC which is at least 5 times the price, is not pocketable at all, has no metering and weighs about 4 times as much.

Built as a fun camera the Lomo LC-A 120 nevertheless delivers astonishing results. High ISO film keeps the aperture smaller if this effect is desired. You can't do smaller for (very) wide angle on 120 film. I love it.

Some gereral words about Lomography and their service: There is a 2-year warranty, at least in Europe. My personal experience with their service is very good. As most of their cameras are made of (cheap) plastic, there is no repair, they just exchange your defective camera. You have to send it in to their Vienna office at your expenses, which is not cheap if you are not based in Austria, but they try to compensate by adding film or so to the return. You absolutely need a proof of purchase, there was heavy abuse by fraudulent customers they told me. So if you buy second hand or your camera is gift, be sure to put your hands on the proof of purchase. After the 2-years warranty period it's over. They will try to help for the expensive not-so-plastic cameras like the LC series, but for the rest there is no repair. Keep this in mind for the prices you pay for older gear.