| | |
| --- | --- |
| plastikcam.com Diana Mini and Superstar | |

The Diana Mini is a shrunken copy of the Diana F+ for 135 film. It is a basic plastic camera with a plastic lens and only the most basic features. For owners of a Diana F+ it is easy to use, the design and the features are the same. Its main features are:

24mm simple plastic menikus lens, ~F8, F11, 4-zone focus 0,6n, 1-2m, 2-4m, 4m-∞
Shutter ~1/60, B
Size 101x70x60, Weight 140 gr.
2 frame sizes via switch, 24x24mm (36 exp.) and 24x17mm (72 exp., half frame), lens equivalent 30mm for sqare and 35mm for half frame, frame counter, cable release thread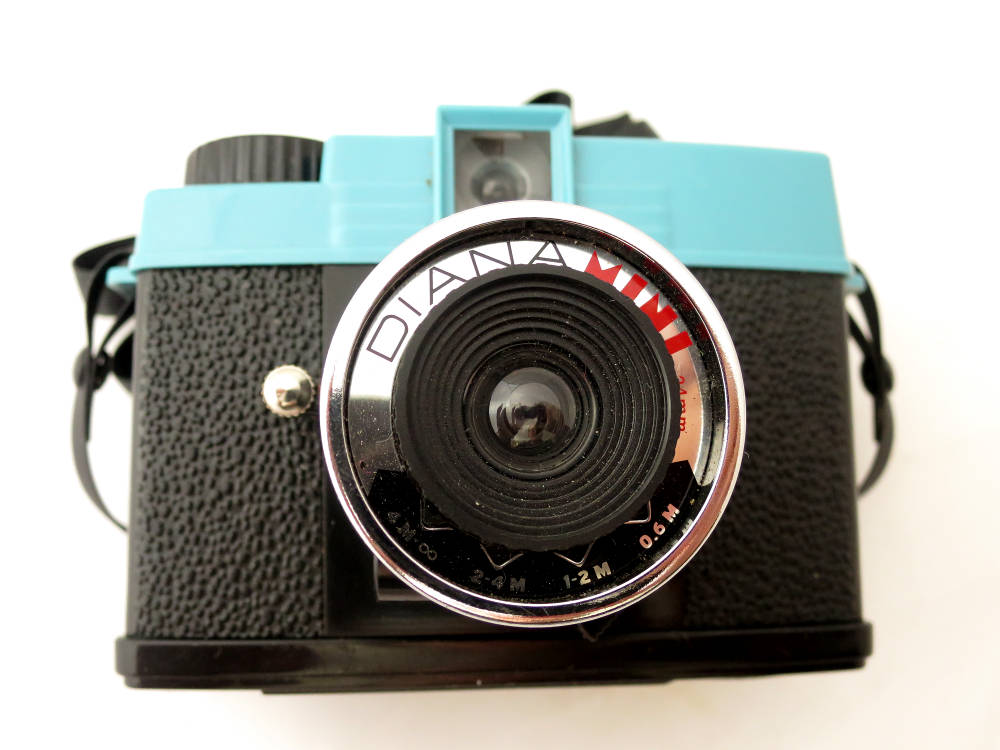 Camera front. viewer window, distance scale around the lens and shutter release. The cable release thread is under the lens.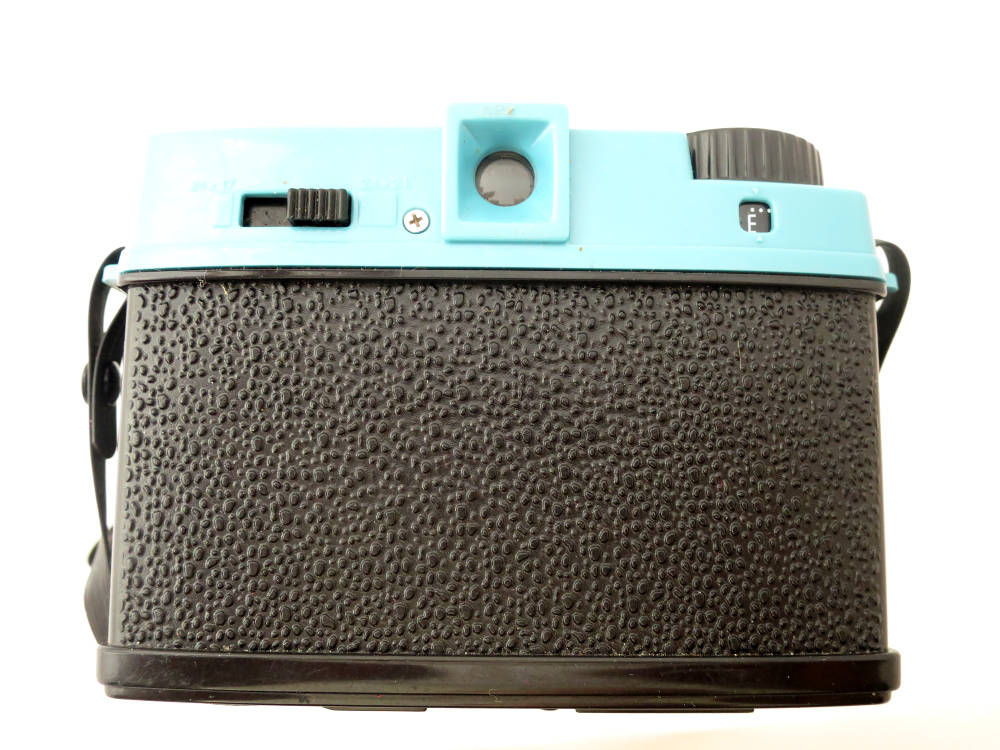 Camera back. Film format switch, viewer, frame counter, film adwance knob.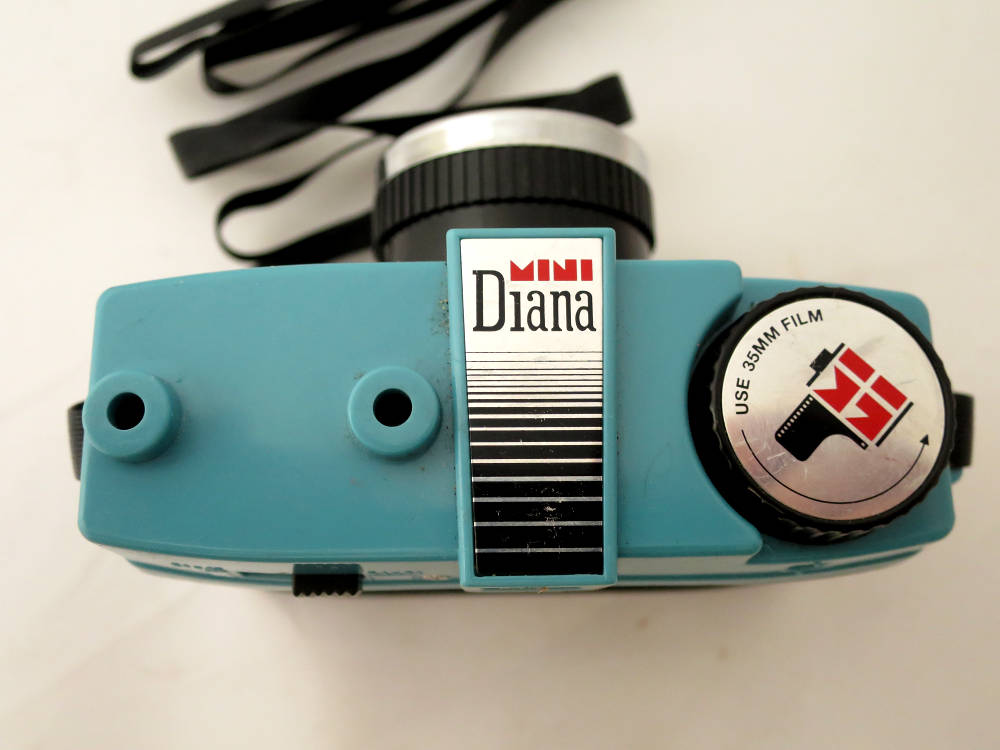 Camera top. Flash socket and film advance.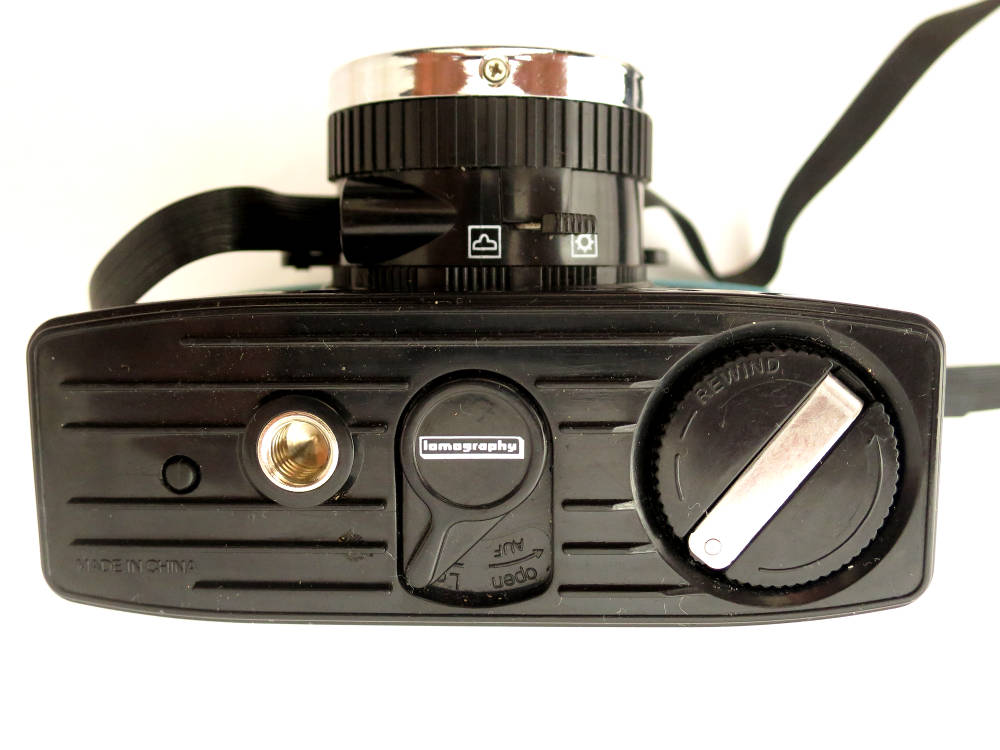 Camera bottom. Tripod socket, back cover release and film rewind.



The basic set.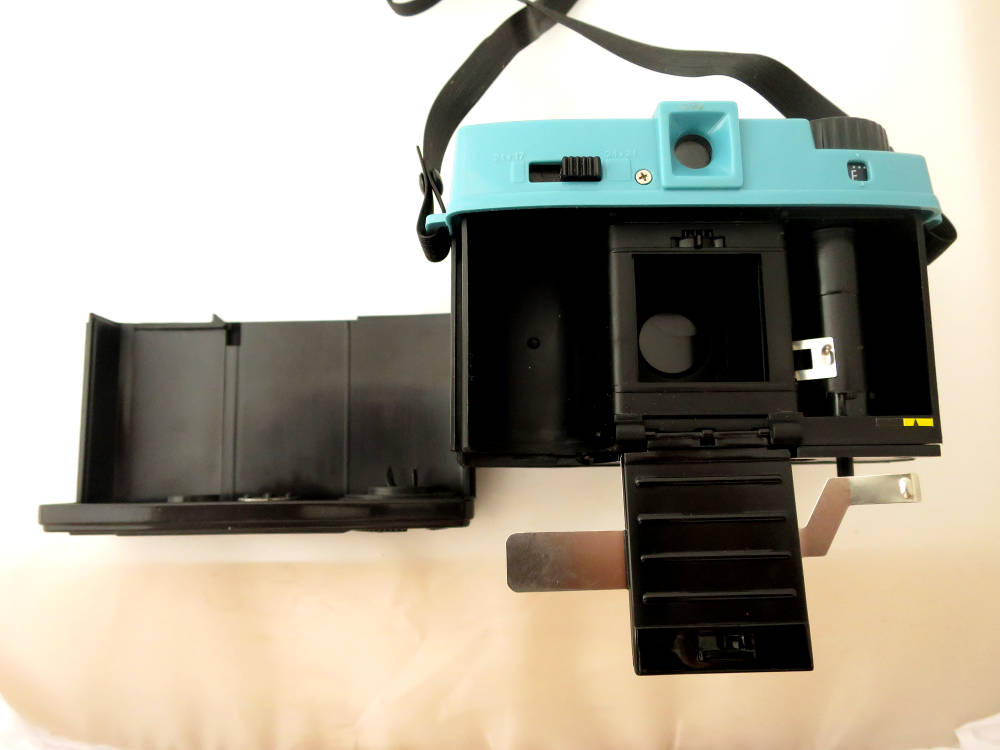 Film compartment.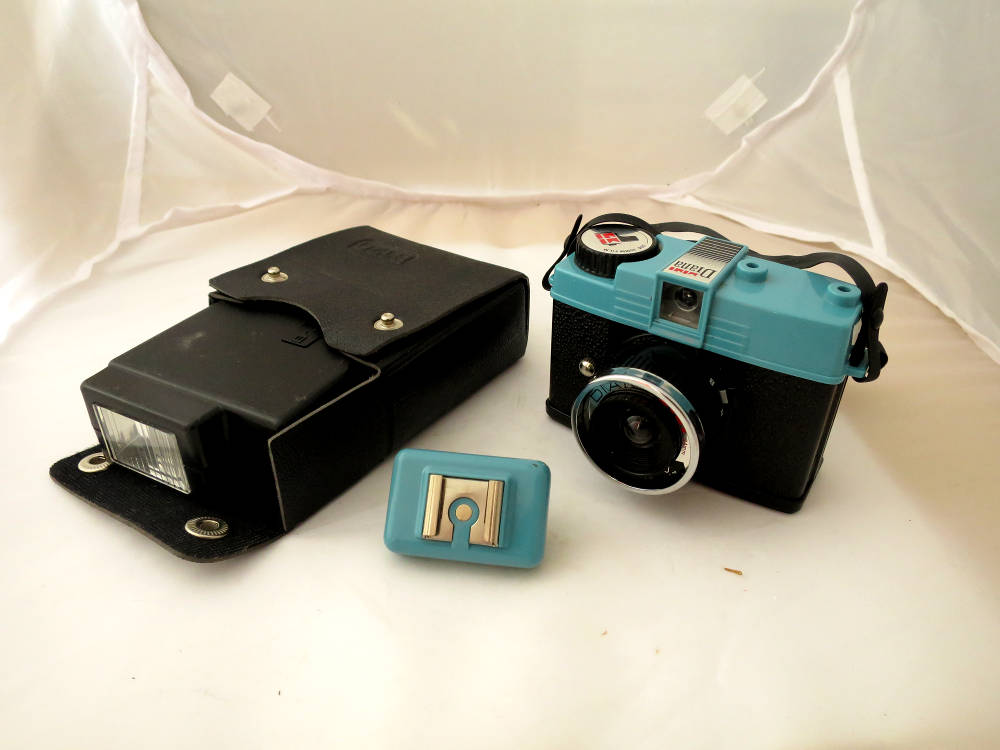 Camera and third party flash with adapter to diana socket.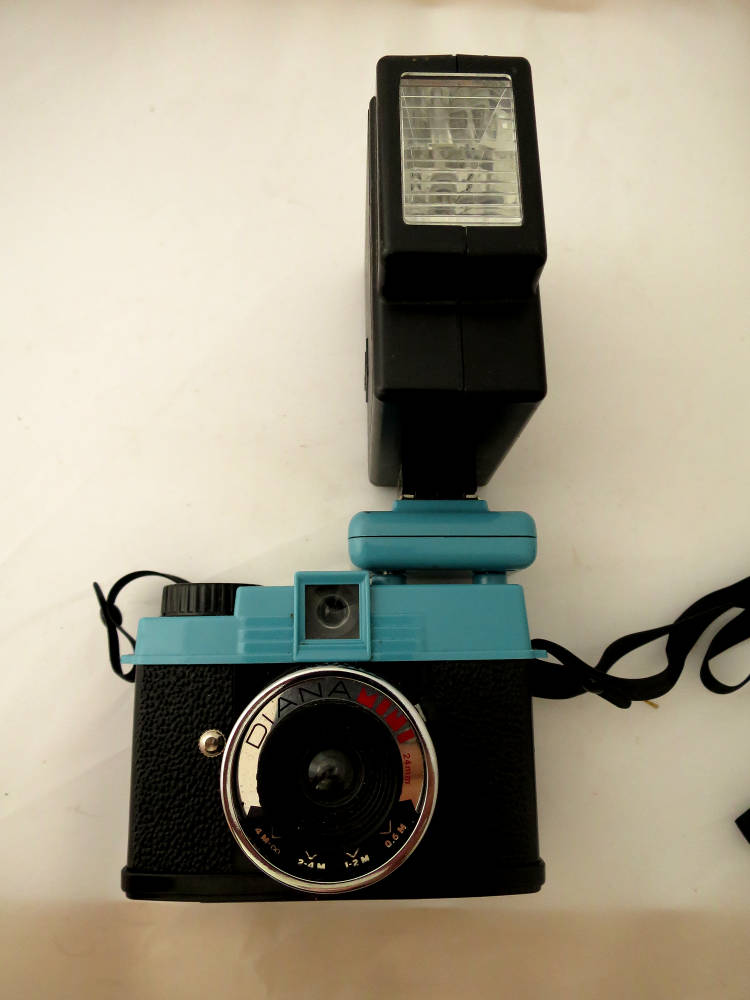 Flash mounted.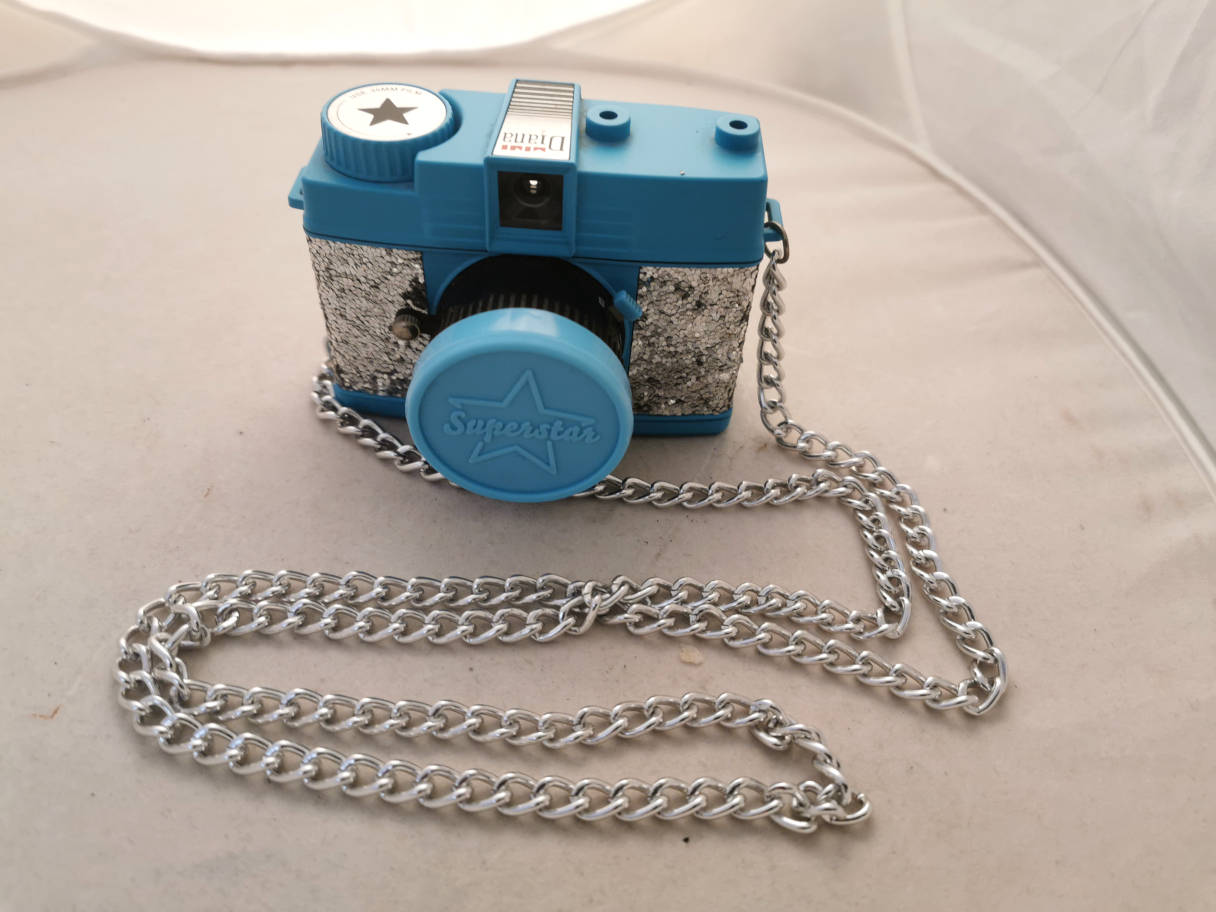 A Diana Mini Superstar with glitzy silver sequins and a shiny silver chain.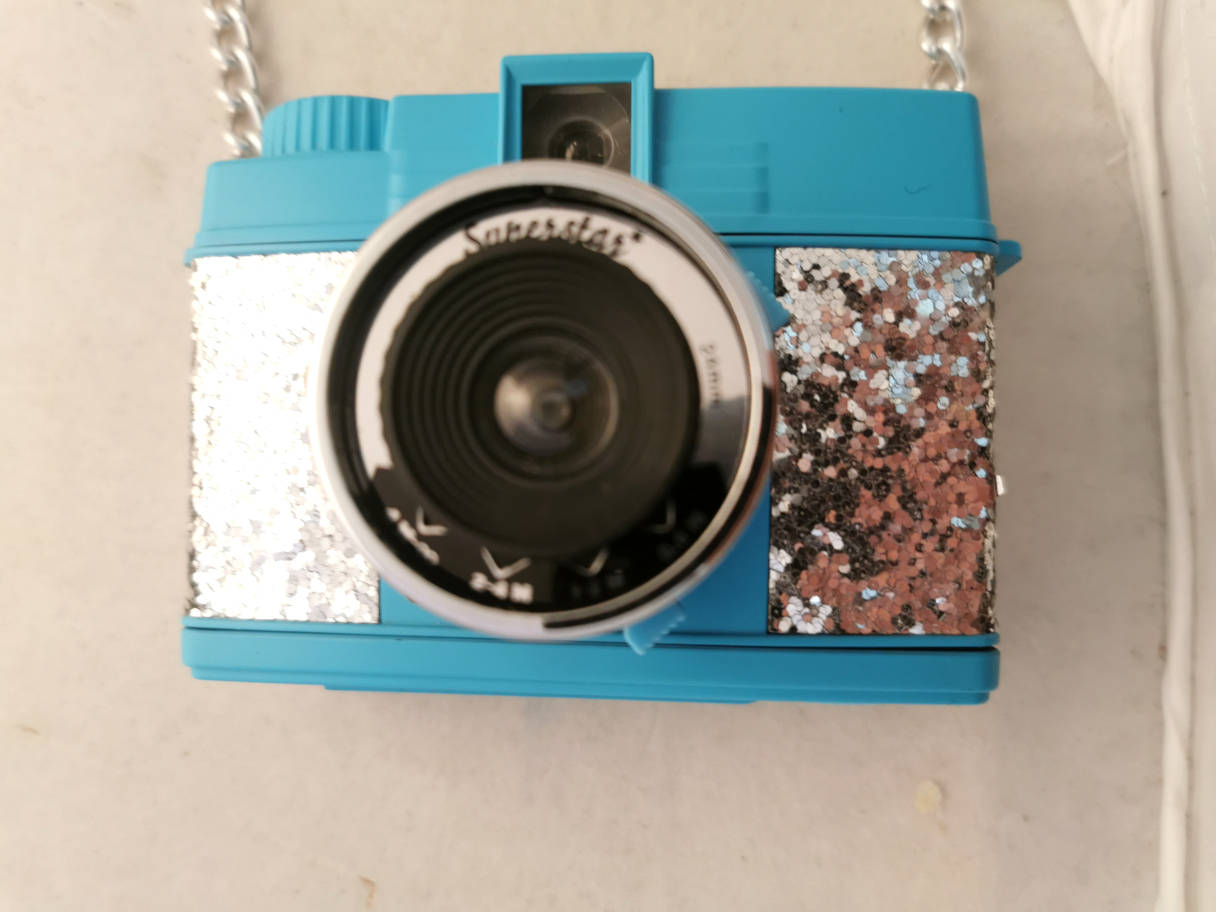 Front. The sequins are just glued to the body and not protected, so handle with care.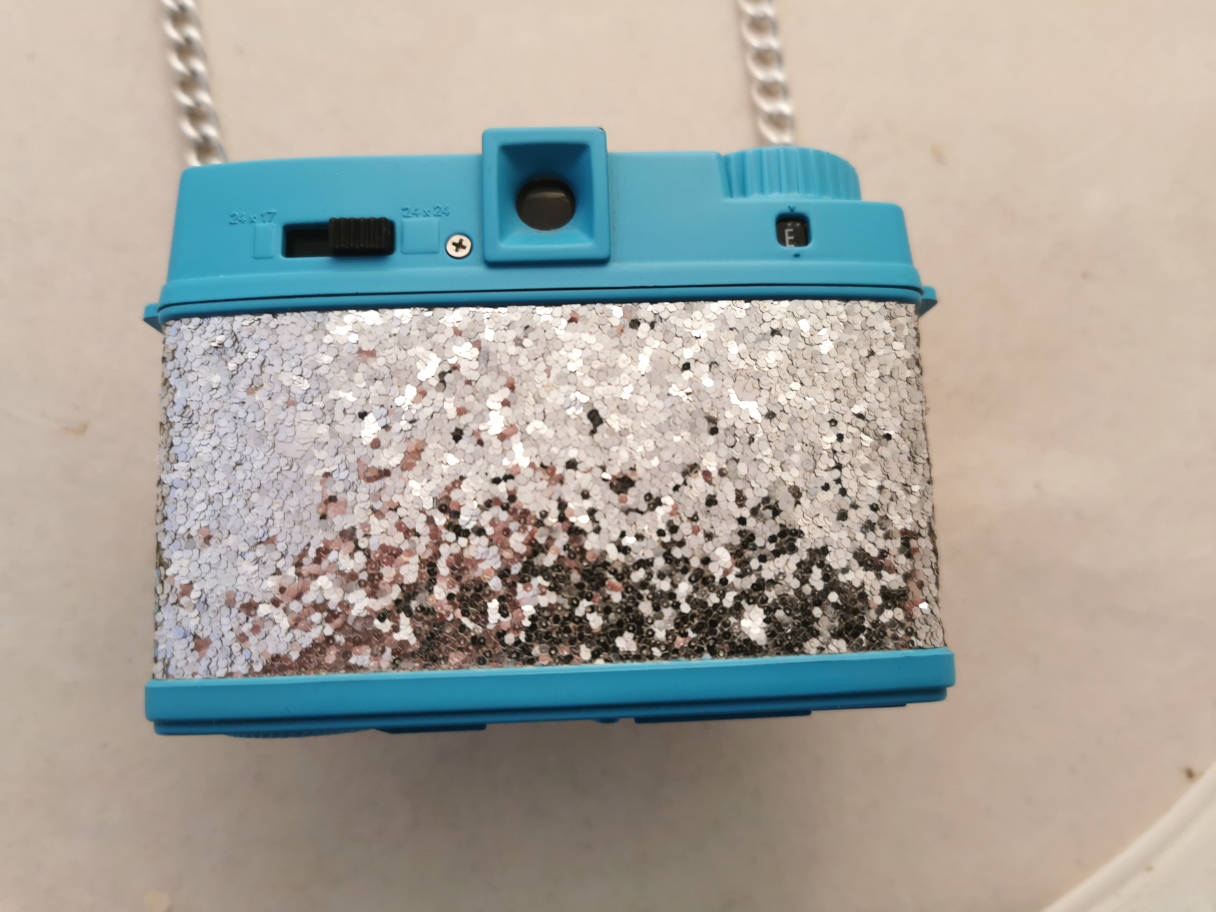 Back.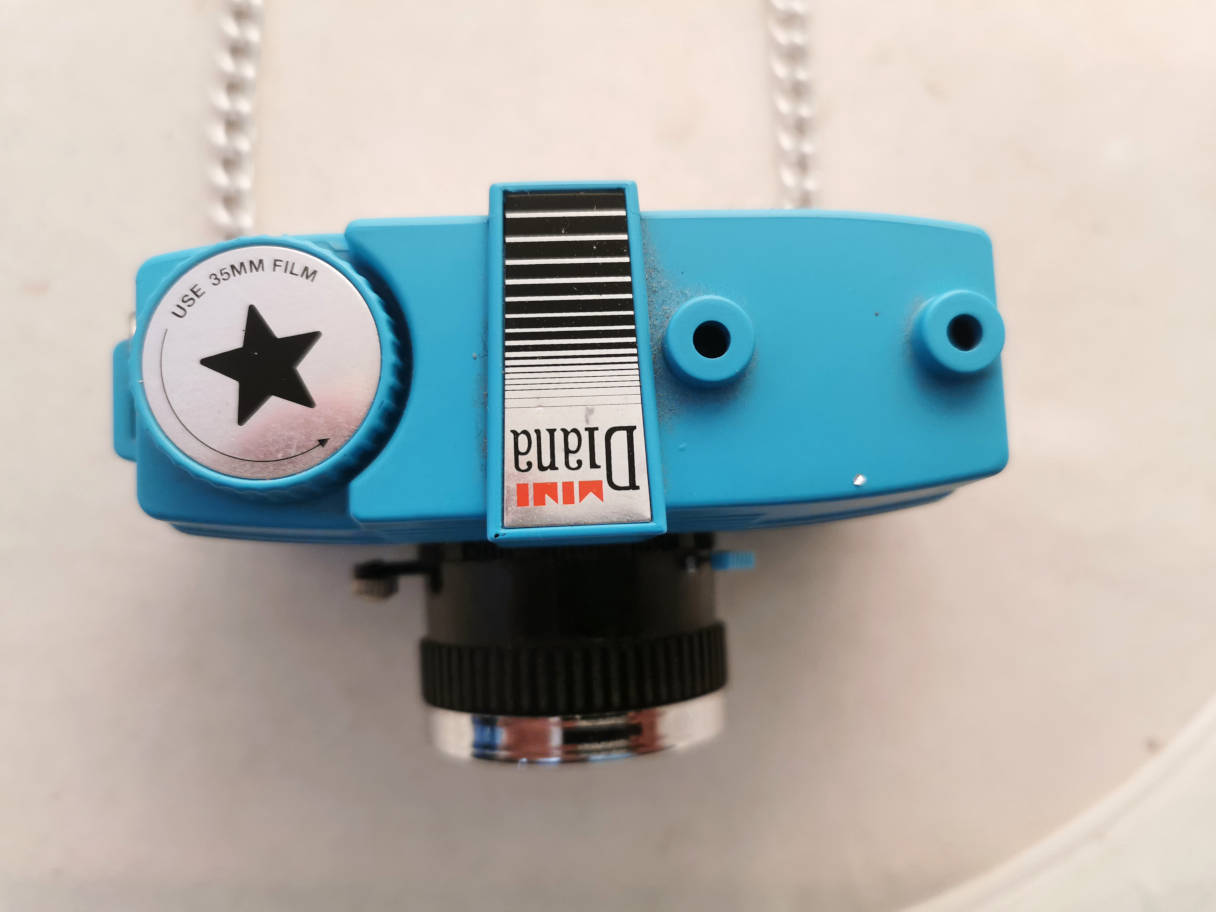 Top.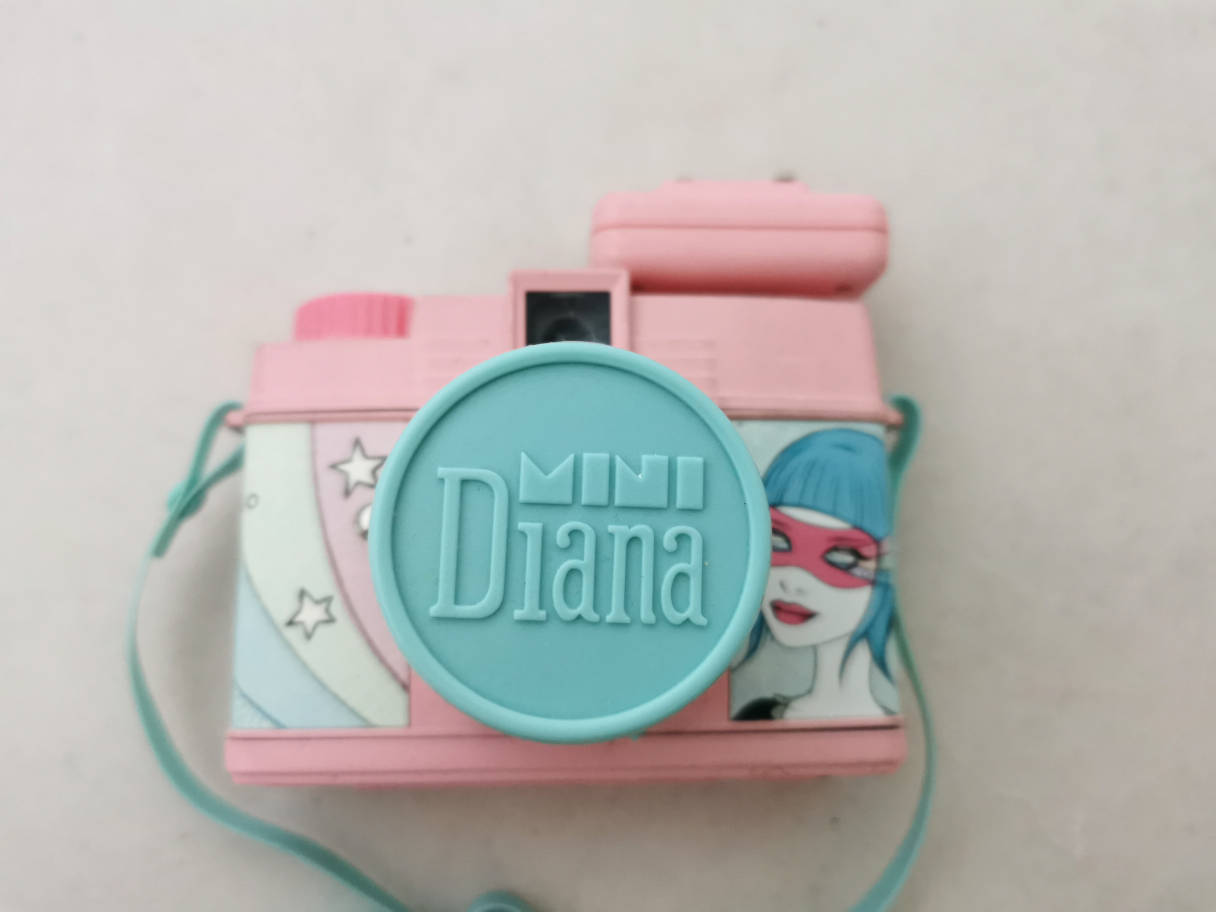 Another edition of the Mini from 2013, the Double Rainbow edition by Tara McPherson. It's designed in a pink-and-turquoise palette and features Tara's signature character 'Quiet Girl' on its body. Front.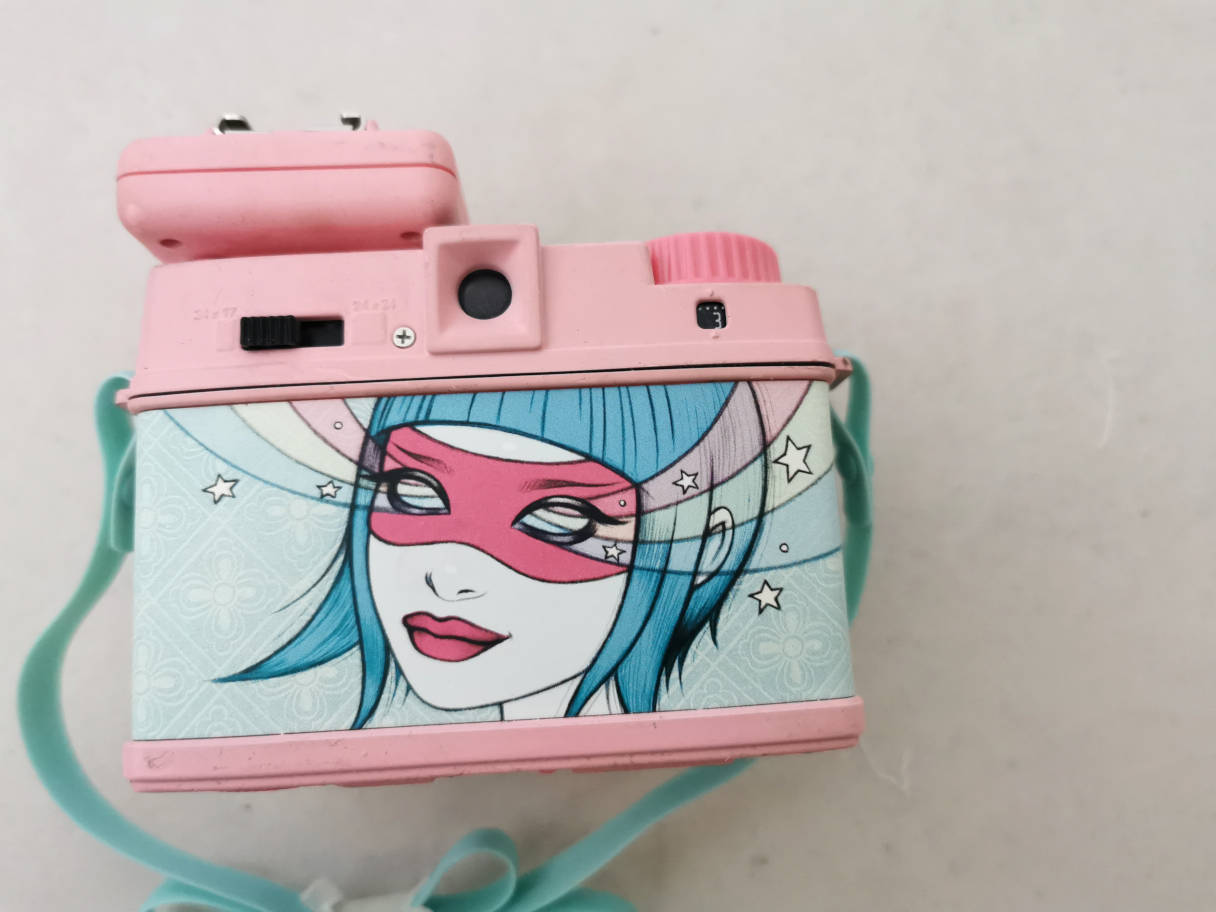 Back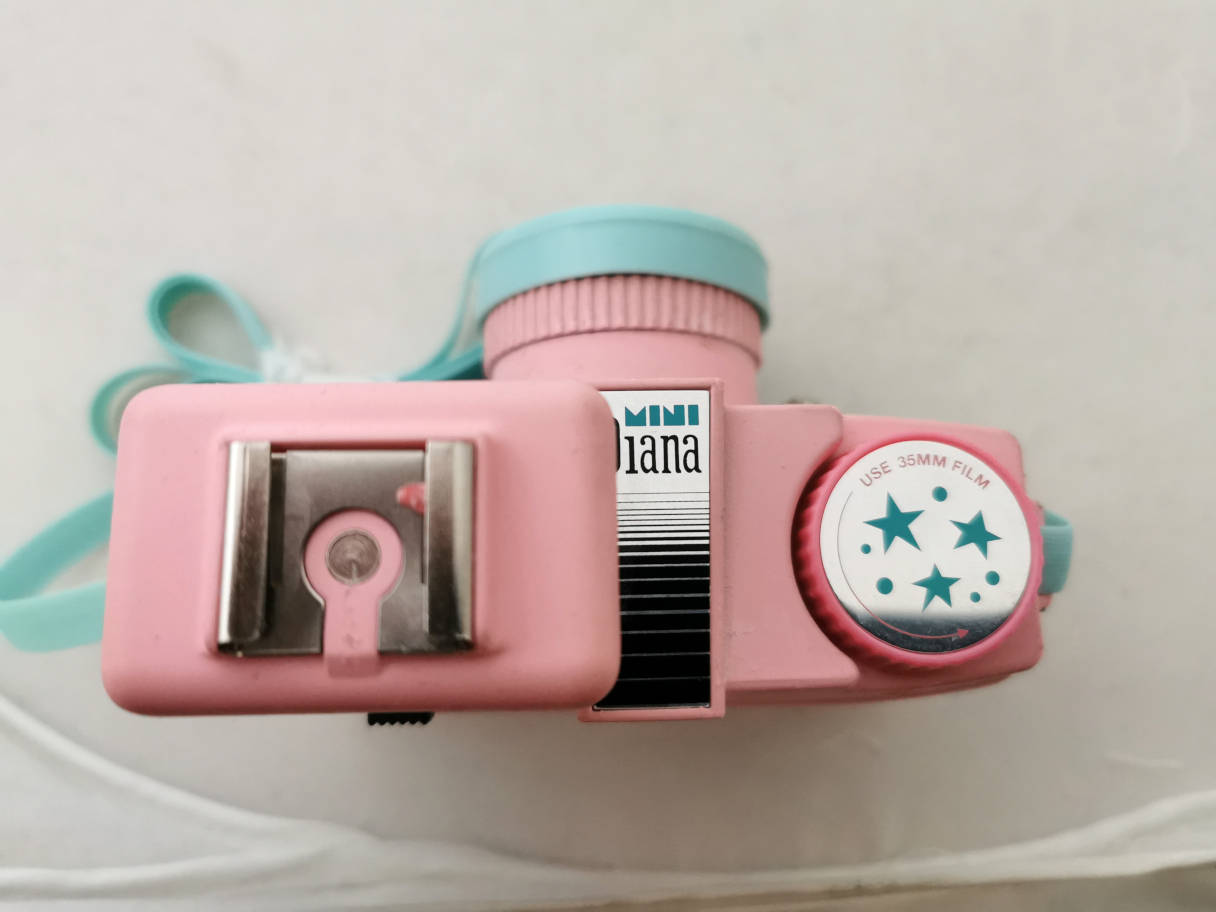 Top.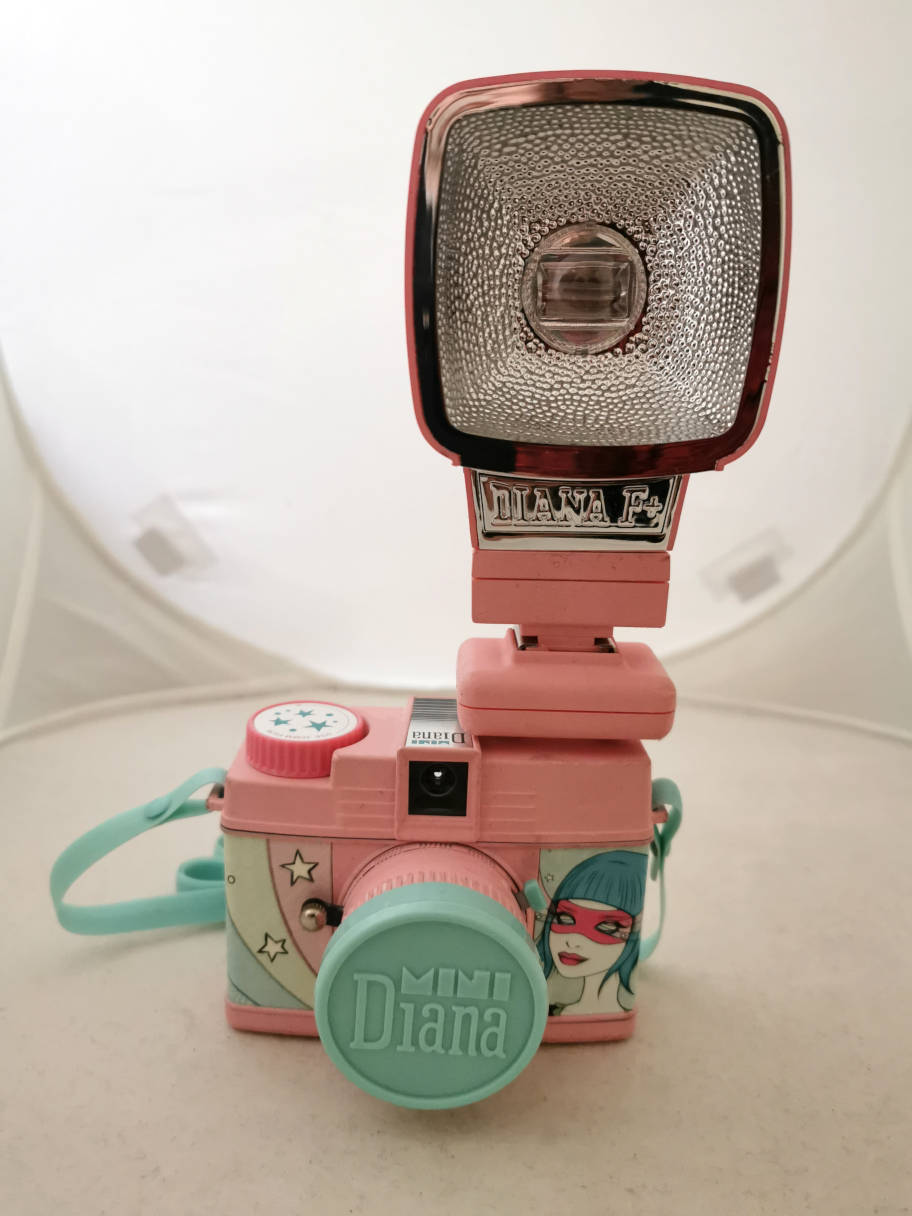 There is a pink matte rubber-like coating on the plastic of the camera and the flash that wears off easily. If you use both adapters between camera and flash, you will have less red eyes in portraits.

The Diana F+ Mini

is a basic plastic camera with only one speed, no automatic exposure, no automatic film advance, no autofocus, not even a rangefinder, cheaply made plastic lenses that produce heavy vignetting and random results.

As for the Diana F+, I don't think about measuring, I guess and I try.

So for me the Mini is a nice find.

I got mine in near new condition with the original box, a third party flash and the flash adapter for a small sum on a flea market. So it was worth a try. The glitzy one came in a cheap lot, so did the double rainbow edition...

Some gereral words about Lomography and their service: There is a 2-year warranty, at least in Europe. My personal experience with their service is good so far. As most of their cameras are made of (cheap) plastic, there is no repair, they just exchange your defective camera. You have to send it in to their Vienna firm at your expenses, which is not cheap if you are not based in Austria, but they try to compensate by adding film or so to the return. You absolutely need a proof of purchase, there was heavy abuse by fraudulent customers they told me. So if you buy second hand or your camera is gift, be sure to put your hands on the proof of purchase. After the 2-years warranty period it's over. They will try to help for the expensive not-so-plastic cameras like the LC series, but for the rest there is no repair. Keep this in mind for the prices you pay for older gear.